US model limits monkeypox infections by one-third from having fewer one-time partners: short-term strategy until next vaccine supply
1 September 2022. Related: mpox (monkeypox).
Simon Collins, HIV i-Base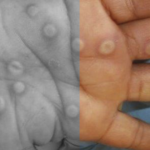 A modelling paper, published in the MMWR, supports the importance of reducing the number of one-time sexual partners as a strategy to manage the current monkeypox (MPX) crisis. [1]
In addition to significantly reducing the risk of new infections, perhaps by up to one-third, this would buy time until new vaccine supplies become available – expected in the next month.
The model projected that among a population of 10,000 gay men, ten highly active individuals could lead to 1,500 to 2,500 infections (15-25%), depending on different transmission scenarios.
In this setting, approximately 50% of all monkeypox (MPX) cases are linked to one-time sexual partnerships, even though they only account for 16% of daily sex acts and 3% of daily sex partnerships.
The model predicted that reducing one-time partnerships by 40% could reduce new cases by approximately 20-30%, and that these gains would be increased if combined with other changes in risk.
Importantly, this level of risk reduction has already been reported in at least one US survey. [2, 3]
comment
Behavioural changes now to reduce the number of MPX cases is a short-term strategy to block the current outbreak and enable the vaccine programme to be more effective. [4]
MPX vaccine supplies are already exhausted in the UK, with the next shipment of 100,000 vials expected by late September. [5]
The move to intradermal vaccination, pending results from a UK pilot study, might also enable up to five doses from each vial that is currently approved to give a single subcutaneous shot. [6]
Although divided dosing is being used in the US, initial practical difficulties have also been reported. These include retraining nurses, needing different syringes, contraindication with hisotry of keloids, and community information. [7]
References