US survey reports 50% of gay men changed sexual behaviour to avoid monkeypox
1 September 2022. Related: Monkeypox.
Simon Collins, HIV i-Base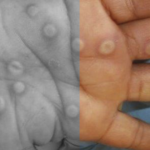 A national US internet survey conducted in early August, and reported in MMWR, showed that roughly half of 824 gay men were worried enough about monkeypox (MPX) to reduce their risks, at least in the short-term. [1]
The survey invited participants of the larger annual AMIS convenience sampled survey (n=10,000) to participate in a short MPX survey. [2]
Even though participants in the MPX survey were older (26% were >55) and less racially diverse (70% white) than the main survey, the results showed high interest in vaccination, and greater access in those at higher risk.
In the previous two weeks, approximately half of respondents reported:
Reducing the number of partners,
Reducing one-time partners (anonymous hook-ups).
Reducing partners met on dating apps or at sex venues.
Reducing participation in group sex.
Of the 22% who had received an MPX vaccine, this included 30% of those with two or more recent partners compared to only 13% in those with one or fewer partners. Similarly, vaccination was reported by 31% vs 12% in those who had vs had not participated in group sex. HIV status was not linked to likelihood of vaccination but PrEP use was (30% vs 7% in those on vs not on PrEP).
Approximately 28% of those who had not been vaccinated had tried to access the vaccine.
Only three participants (1.7%)  had been diagnosed with MPX but 11% knew someone who had had MPX.
comment
Although this small survey has limitation of a self-selected population and has limited diversity, it shows that that many men have already made changes to reduce their risk of MPX.
Behaviour change is an acceptable short-term strategy in the context of limited access to vaccines.
Reference
Delaney KP et al. Strategies adopted by gay, bisexual, and other men who have sex with men to prevent monkeypox virus transmission — United States, August 2022. DOI: 10.15585/mmwr.mm7135e1. ePub: 26 August 2022.
https://www.cdc.gov/mmwr/volumes/71/wr/mm7135e1.htm
AMIS survey website
https://emoryamis.org