Summary of 620 cases of monkeypox seen at three London clinics
1 September 2022. Related: Conference reports, mpox (monkeypox), World AIDS 24 Montreal 2022.
Kirk Taylor, HIV i-Base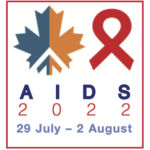 IAS 2022 included a special satellite session on monkeypox (MPX) covering epidemiology, clinical pathology, and ongoing challenges. 
This included an oral presentation by Nicolo Girometti from the Chelsea and Westminster Foundation in London on 620 confirmed cases seen up until 17 July 2022 in three clinics, including 56 Dean Street in Soho. [1] 
At the time, this huge caseload accounted for more than 40% of the total cases in London, 29% of the cases in the UK and 4% of global MPX cases.
Similar to other national and international cohorts, 99% were gay and bisexual men. Median age was 39 years (IQR: 33 to 43) and 70% were white, of which 38% were born in the UK. Nearly all reported a new sexual partner in the previous three months (94%), with a median of five partners over this time. Although none had travelled to endemic countries, 43% had travelled outside the UK within the past 60 days. 
Nearly a third (31%) were living with HIV, all with a CD4 count >350 cells/mm3 and 90% with viral load <50 copies/mL on ART.
Clinical results were summarised for the first 101 of these cases. 
The mean incubation time was 8 days (95%CI: 6 to 11) with mild symptoms in the prodromal phase, including: fever (66%), asthenia (64%), myalgia (36%), headache (32%), sore throat (14%) and concomitant rash (64%). However, 17% remained asymptomatic. 
Over the course of infection, 99% had at least one skin lesion, with 93% having at least one lesion in the anogenital region. Approximately one-third of cases had lesions on only one body site and one-third had lesions on at least three sites. The online presentation includes photographs showing the range of rash.
Complications included proctitis (17%), antibiotic treatment for co-infection (25%) in addition to pharyngeal/conjunctival lesions, and 35% tested positive for a further STI (22% gonorrhoea, 14% chlamydia and 6% with syphilis).
Treatment was primarily to relieve pain and included paracetamol, codeine, morphine and lidocaine depending on severity, with complex cases also using laxatives, hydration, catheters, mesalamine enemas for proctitis, antibiotics and surgically draining abscesses.
Antivirals including tecovirimat were only used in more severe cases. Vaccination as post-exposure prophylaxis was also effective in some people. 
comment  
In the UK, London is the epicentre of the UK MPX outbreak, accounting for 70% (n=2,257) of all cases in England. [2]
This additional work has not been supported by additional funding to manage the MPX response, including running the vaccine programme.
Without additional support other essential sexual health services are being put at risk.
References
UK Health Security Agency. Monkeypox outbreak: epidemiological overview. (30 August 2022).
https://www.gov.uk/government/publications/monkeypox-outbreak-epidemiological-overview
Girometti N et al. Monkeypox: Outbreak and response in non-endemic countries symposium. The clinical syndrome and treatment. AIDS 2022,
29 July to 2 August, 2022, Montreal and virtual.
https://programme.aids2022.org/Programme/Session/860 (symposium listing)
https://conference.aids2022.org/media-2315-monkeypox-outbreak-and-response-in-non-endemic-countries (webcast)