Tecovirimat treatment for monkeypox in the UK: importance of the PLATINUM study
3 October 2022. Related: mpox (monkeypox).
Simon Collins, HIV i-Base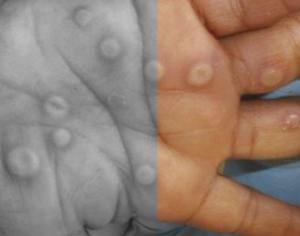 The PLATINUM study is currently running in the UK for anyone diagnosed with mild-moderate monkeypox (MPX) and who is currently not being seen as an inpatient. [1]
Enrolment only requires a standard email from a doctor to confirm the MPX diagnosis.
No clinic visits are required and study meds are posted and responses are collected virtually.
Tecovirimat is the most promising antiviral against MPX and access outside this study is generally limited to severe cases that require hospitalisation.
Information about tecovirimat was included in the previous issue of HTB, also highlighting this study.
The reduced cases in the UK make enrolment into this study extremely important, in addition to offering potentially better treatment than the current standard of care.