Tecovirimat for treating mild monkeypox: new studies open in the UK and US
1 September 2022. Related: mpox (monkeypox).
Simon Collins, HIV i-Base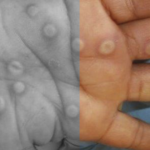 On 23 August 2022, the PLATIMUM study was launched in the UK to look at using tecovirimat to treat monkeypox (MPX). [1]
This study plans to randomise 500 people (1:1) with mild MPX to either tecovirimat or matching placebo. Follow-up is for 28 days.
Participants need a referral from their doctor, but no further clinic visits are needed. This means that anyone who is self-isolating can still take part. The referral email is simple and only takes a few minutes (www.platinumtrial.ox.ac.uk/healthcare-workers2).
Although tecovirimat interacts with some HIV medications (darunavir, rilpivirine and maraviroc) these are either not cliniclly important or can be easily managed.
Other drugs with potential interactions include: bupropion. repaglinide, voriconazole, midazolam, atorvastatin, tacrolimus, methadone, flurbiprofen, erectile drugs (sildenafil, tadalafil, vardenafil) and proton pump inhibitors (lansoprazole, omeprazole, rabeprazole).
Anyone with severe MPX, especially if hospitalised, should have named-patient access to tecovirimat without needing to join a placebo-controlled study.
Further participant information and the study protocol are available online.
In the US, the phase 3 STOMP study is randomising 530 adults and children with MPX (2:1) to either tecovirimat or placebo. It asks people to send photographs of their symptoms as part of the ongoing monitoring. [2, 3]
comment
Several studies have already reported anecdotal evidence on potential benefits of tecovirimat to treat MPX, also supported in animal studies for smallpox. [4, 5, 6, 7, 8, 9]
This includes, as we went to press, a review of open-label use of tecovirimat in 549 participants in the US, reported in MMWR. Data is included for about 350 people. [9]
This makes results from a randomised study essential in order to be able to inform future access and use. This is a very study to refer people to – only a standard email – but the referral is needed.
Results should similarly be compiled from open-label use, although these will be more limited.
The PLATINUM study is also linked to a similar study in Canada. [10]
References
This page was updated on 11 September to includ US and Canadian studies.