Unusual case reports: non-sexual acquisition, severe MPX and advanced HIV, human-to-dog transmission
1 September 2022. Related: mpox (monkeypox).
Simon Collins, HIV i-Base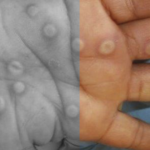 Although the overwhelming majority of cases in the current monkeypox (MPX) outbreak are linked to sexual networks of gay men, other unusual cases are worth noting.
Non-sexual acquisition
This case includes an American man in his 20s diagnosed with MPX after returning to the US and presenting on day 7 of a diffuse vesicular rash. [1]
The rash had started 14 days after attending several large crowded outdoor events in the UK, that lasted several hours and included close but clothed dancing. The man was taking PrEP and had a recent history of STIs but reported no sexual contact during the previous three months. He did not have typical symptoms, with no fevers, chills, headache, lymph node swelling, cough, fatigue, or anorectal pain.
His symptoms included "multiple nondraining skin lesions at different stages of appearance, including a centrally umbilicated vesicle on his left palm (testing PCR positive), a crusting flat lesion on his lip, and pustules on his right and left knuckles and on his lateral torso and back". There were no penile, testicular, or anal lesions.
Although MPX DNA was also detected in self-sampled nasopharyngeal, saliva and rectal samples, the authors commented that contamination of the sample could not be ruled out. All lesions resolved by day 28.
Coinfection with severe MPX, advanced HIV and syphilis
A difficult case of severe monkeypox was reported in a 40-year old man who presented to his GP with a red spot on the tip of his nose that was misdiagnosed as sunburn. [2]
Within three days, this rapidly progressed to necrosis and typical MPX lesions appeared on the whole body, with serious infection of the penis and oral mucosa. The man had no history of STI testing and tested positive for long-standing syphilis (TPPA 1:2560, VDRL 1:8) and advanced HIV (CD4 count 126 cells/mm3).
Treatment was with 600 mg tecovirimat, twice-daily for seven days.
The limited details reported on this case included that lesions resolved and swelling on the man's nose was reduced. The necrosis has now completely resolved, without the need for surgery.
Human to dog transmission
MPX transmission from a human to a dog was reported in a recent letter to the Lancet. [3]
This case, the first of it's kind, included a gay male couple in Paris. They lived together and both also had other sexual partners and both presented with PCR-confirmed MPX lesions. Symptoms including anal ulcers and wider body rash. Oropharynx samples tested positive.
Fourteen days after onset of initial symptoms, their four year old dog presented with skin lesions that were MPX PCR-positive and that phylogenetically matched one of the partners.
Although the couple had isolated their pet from contact with other animals since their first symptoms, the dog regularly slept in the same bed as the men.
As the dog's lesions, together with oral and anal swabs tested positive, the researchers believe this showed a new systemic canine infection, rather than viral transfer from either human lesions or airborne transmission. However, the animal has tested negative for MPX antibodies. All lesions have since resolved. 
This is the first time that MPX transmission to a dog has been reported and this was an early concern when UK guidelines for self-isolation included separation from pets.
In countries where MPX is endemic the infection is generally thought to be maintained due to infections in rodents.
References
Karan A, et al. Human monkeypox without viral prodrome or sexual exposure, California, USA, 2022. CDC Emerg Infect Dis. 28(10). DOI:
10.3201/eid2810.221191. (15 August 2022).
https://wwwnc.cdc.gov/eid/article/28/10/22-1191_article
Boesecke C et al. Severe monkeypox-virus infection in undiagnosed advanced HIV infection. Infection (2022).
https://doi.org/10.1007/s15010-022-01901-z
https://link.springer.com/article/10.1007/s15010-022-01901-z
Seang S et al. Evidence of human-to-dog transmission of monkeypox virus. Lancet. Letter 400(10353);658-659. DOI: 10.1016/S0140-
6736(22)01487-8. (10 August 2022).
https://www.thelancet.com/journals/lancet/article/PIIS0140-6736(22)01487-8/fulltext