Monkeypox into Autumn: still no emergency funding, vaccine efficacy and UK declines further vaccines
3 October 2022. Related: Special reports, mpox (monkeypox).
Simon Collins, HIV i-Base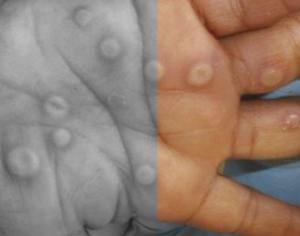 This is the fifth consecutive issue of HTB to include a special report that summarises developments about monkeypox (MPX) in the UK and introduces additional articles.
Each report has covered the remarkable responses from sexual health services and community organisations, that unfortunately contrast to that of the UK government.
MPX continues to be an infection that is affecting gay and bisexual men and disproportionately affecting those who are living with HIV.
The good news is that MPX cases have been rapidly dropping since August. The latest UK epidemiology report dated October reports 3673 confirmed or likely cases since May 2022, with the majority in England (only 46, 94 and 34 are reported in Wales, Scotland and Northern Ireland, respectively). [1]
The notifiable disease register lists only 13 cases in England for the week ending 16 October, and steadily reducing numbers for each of the previous five weeks (62, 45, 25, 25, 20, respectively).  [2]
This is likely due to several reasons. One is that during the summer many gay and bisexual men changed their levels of personal risk – generally limiting situations where MPX is most easily transmitted. Another is likely to due immune responses developed by those who were exposed to, and who then cleared MPX. A third is hopefully due to the impact of MPX vaccination, even though most people have only received a single shot of the two-dose recommended schedule.
However, the studies reporting fewer infections in people who have been vaccinated, are all based on retrospective observational data in a population where significant behavioural differences would be expected in the vaccinated group. Many of those who were vaccinated were actively health-seeking who might have initially been at low risk – and they might also be avoiding risk now while waiting for a second shot.
These include an MMWR study of 5,402 cases in men aged 18 to 49 years old where MPX was 14-fold more likely in those who were unvaccinated. [3]
A second US study, published as a research letter in JAMA, reported 90 MPX cases from a cohort of 7339 people who had received at least one MPX vaccine. Of these, 37 were diagnosed within the first week, 32 within the second and 13 during the third and fourth weeks post-vaccination. [4]
While cautiously optimistic, both studies showed that infections still occur, especially in the few weeks after a single shot, but also several weeks after a second shot.
A small Israeli study, not yet peer reviewed, reported a 79% protective impact of vaccination, but only involved 18 cases: 3 vaccinated (>25 days after a single shot) and 15 unvaccinated, and with significant differences in baseline demographics between the two groups. [5]
In response to the limited supply of vaccines which ran out by mid-August, the UK has now adopted intradermal vaccination using the new supply delivered in late September. This is in an attempt to reach greater vaccine cover with single shots, although by late October second doses are now being offered.
It is therefore disturbing to hear that in October, health secretary Thérèse Coffey rejected expert advice to order an additional 70,000 doses of the vaccine. [6]
This is shocking given the global demand for limited vaccines, that are currently supplied by a single company, the limited protection from single doses and that online slots for booking a first dose in London clinics are already over-booked. [7]
On 20 October, a new online vaccine appointment finder for the rest of England was launched, and it includes more than 100 clinics. Both sites currently only offer first vaccines. [8]
Second doses were first offered in Manchester, through a third online portal, although they are now available more widely. [9]
The accompanying information, however, refers to only expecting to vaccinate 100,000 people, including health workers. Many community organisations, including i-Base, believe this to significantly underestimate the numbers for what is now expected to be an endemic STI among gay and bisexual men.
Lower case numbers makes it even more important to refer people to the UK tecovirimat study. We include information about the PLATINUM study (also in the previous HTB) and encourage anyone diagnosed with MPX to enrol. No clinic visits are required but doctors need to email a standard referral that confirms MPX. There is only a short window period to prospectively collect information from a randomised study. [10]
Other MPX reports include a review of the most serious and complex cases referred to the US CDC. These include involvement of many major organ systems requiring specialist management and hospitalisation and a caution that the risk of severe outcomes might be higher in people with significantly reduced immune function, including having a CD4 count <200 cells/mm3. They are a caution that MPX can be extremely serious and sometimes fatal. [11]
We also include letters from leading professional organisations involved in the frontline response to MPX that challenge the UK government's refusal to acknowledge the exceptional impact on sexual health services, that remain threatened unless supported with emergency funding. [12]