CHAI 2022 report on global access to ART
1 December 2022. Related: Treatment access.
Simon Collins, HIV i-Base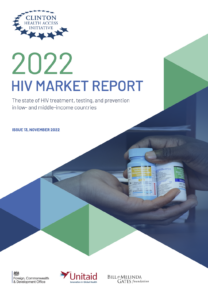 On 13 November 2022, Clinton Health Access Initiative (CHAI) published their annual global HIV market report, with UNITAID and the Bill & Melinda Gates Foundation.
These organisations continue to play a leading role in global access by using economies of scale and bulk purchasing agreements to negotiate lower prices for better HIV medicines in lower and middle-income countries (LMICs).
Globally, 95:95:95 targets by 2025 are currently at 88:90:92, with COVID-19 leading to fewer HIV tests for 2019 and 2020.
Key highlights include:
Only 52% of children are on ART (880,000/1.7 million) compared to 76% adults in LMICs.
Only 40% on ART have undetectable viral load
There are still 160,000 new paediatric infections each year
Only 30% of children in LMICs access early infant diagnosis (EID) – and many children with positive results are lost to care within the next year..
98,000 children died of HIV-related causes.
Undiagnosed syphilis during pregnancy still causes 200,000 preventable

 

stillbirths or newborn deaths.
Deaths from advanced HIV (AHD) are not dropping quickly enough. Although 650,000 people (11% children) died of AHD in 2021, this is only 6% per each year compared to the 20% annual drop needed to reach the 2025 target of 200,000.
One-third of deaths are related to TB

 

(incluiding 11% of children).
COVID-19 disproportionally affects people living with HIV, but by July 2022, only 21% of people in Africa had completed a primary course of vaccines (and coverage wanes after 6 months). CHAI and partners negotiated for a course of Paxlovid to be available for high risk patients at $25.
Continued investment is still needed to enable access to latest and upcoming HIV drugs. Most people globally are treated with generic medicines which has a market of US$1.2 billion.
Generic TLD (tenofovir D/lamivudine/dolutegravir) is now available for less than US$ 50 per year using 6-monthly 180-pack cartonless packs. (By comparison, people living in the US are often still restricted to having to get a new prescription every month).
80% of people in LMICs now use DTG-based ART, although differentiation between first/second-line and adult/paediatric data are unclear, making monitoring difficult.
Generic darunavir/ritonavir (400/50 mg) is now US$ 17.50 per month. This is less than lopinavir/r although WHO still lists LPV/r as a second-line option). This is WHO approved but not available for PEPFAR because it is expected to be FDA prequalified until 2024.
Generic paediatric dolutegravir is

 

US$ 4.50 for 90-pill pack.
HIV self-testing now US$ 1.00 per test for public purchasing in 140 LMICs including a dual HIV/syphilis test.
Generic TDF/FTC for oral PrEP is US$ 4.00 a month.
Point-of-care CD4 test to diagnose advanced HIV (Visitect, with a 350 c/mm3 threshold)

 

is < US$ 4.00 and available for public purchasing in 130 LMICs.
Low pricing agreements have also been negotiated for TB preventative treatment preventive therapy three‐month weekly rifapentine and isoniazid (3HP) and one‐month daily rifapentine and isoniazid (1HP).
Access programmes for liposomal amphotericin B (L-AmB) for cryptococcal meningitis are also being developed. This includes the important example of an FDA-approved generic biosimilar formulation of a liposomal nanomedicine.
Information is also included on long-acting cabotegravir and rilpivirine. Also for lenacapavir and islatravir, although neither compound has been included in a generic access option.
The report also highlights increases in global uptake of PrEP and developments for access to injectable PrEP.
References
CHAI 2022 HIV Market Report: The state of the HIV market in low- and middle-income countries
https://www.clintonhealthaccess.org/webinar/2022-hiv-market-report (report )
CHAI. Highlighting the latest updates in HIV treatment, prevention, and diagnostics
https://www.youtube.com/watch?v=GKay_ifczWE&t=70s (webinar)