UK Guide to PrEP updated (November 2019)
1 November 2019. Related: News.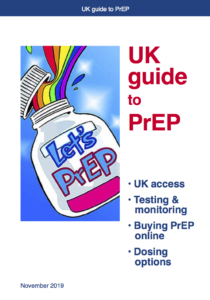 The 5th edition of this UK guide to PrEP is now updated online and printed copies are free to order. [1]
Changes to this edition include:
Latest information about how to access PrEP in the UK. This includes differences in how and where the NHS provides PrEP.
In includes new informations about the PrEPshop clinic in London and buying PrEP online.
A new section on PrEP and sex work.
Information about TAF/FTC for PrEP.
Small changes to clarify the way PrEP dosing is described.
New recommendation that heterosexual men can use event-based dosing.
The guide is available in print and online.
The guide includes information about how to use PrEP safely.
Who could benefit from PrEP.
How to buy PrEP online.
Different ways to take PrEP.
Daily and event based dosing (EBD).
Important monitoring tests.
Other considerations.
This publication was produced in collaboration with UK doctors and PrEP advocates from the following organisations and clinics.

Guide to PrEP (Print)     ISSN 2398-6409.
Guide to PrEP (Online)    ISSN 2398-6417.
References
UK guide to PrEP. i-Base collaborative publication. (5th edition, November 2019)
https://i-base.info/guides/prep
Collins S. NHS England confuses arse and elbow: block to PrEP ignores UK HIV crisis and will send PEP services into chaos. HIV Treatment Bulletin, May/June 2016.(2 June 2016)
https://i-base.info/htb/29979
NHS England fudges PrEP access and delays on-demand access to PrEP by years; blocks doctors from prescribing PrEP now. (4 December 2016)
https://i-base.info/htb/31078