Fit for Purpose: treatment optimisation reports (2012 – 2018)
23 July 2018. Related: News, Other reports, Publications.
–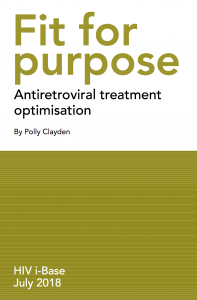 Fit for Purpose is an i-Base publication about HIV treatment strategies for low and middle-income countries.
The latest edition was launched at the AIDS 2018 conference in Amsterdam in July 2018.
Read July 2018 edition online.
This report is currently updated at least annually, to coincide with main HIV conferences, including CROI, IAS and CADO2.
Each report covers treatment optimisation using new strategies for HIV treatment.
The reports also include separate sections on pipleine developments of new HIV drugs for adults and children.
Download reports