Viral load may be more important than condom use.
Viral load determines how infectious bodily fluids are. Levels are highest in someone who is recently infected (up to 40 million copies in a millilitre of blood). By comparison, someone on treatment with an undetectable viral load has less than 50 copies/mL (see Figures 2 and 3 below).
When viral load is very high, it increases the risk from low risk activities like giving oral sex.
The risk of heterosexual transmission from vaginal sex without a condom is dramatically reduced when an HIV positive person has an undetectable viral load.
One study reported the risk to drop by 92% [1] and another by 96%. [2].
The single transmission in each study occurred when the positive partner had only just started treatment when viral load was still high.
An undetectable viral load does not mean that transmission cannot occur, but the risk is dramatically reduced.
When viral load is undetectable in blood, there are less than 50 copies/mL and often less than 5 copies/mL.
About 90% of times that viral load is undetectable in blood it is also undetectable in genital fluids.
This changes how we think of traditional risks and safety. So sex without a condom (with undetectable viral load) might become a lower risk than oral sex (with a man who is been recently infected).
Figure 2 – Viral load levels as HIV infection progresses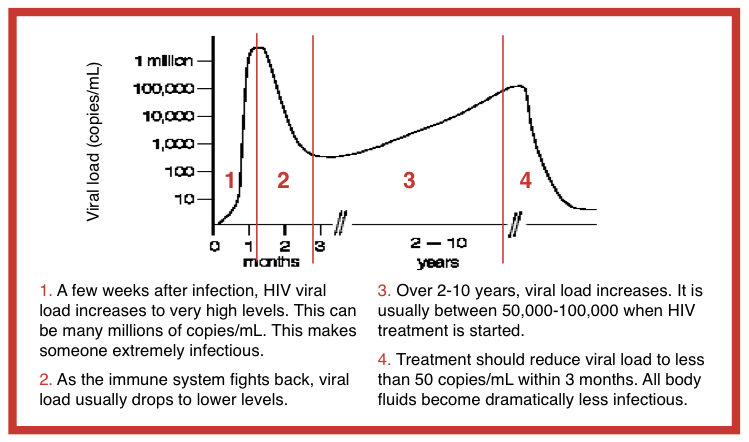 Figure 3 – The relationship between viral load and HIV transmission in Rakai Study [3]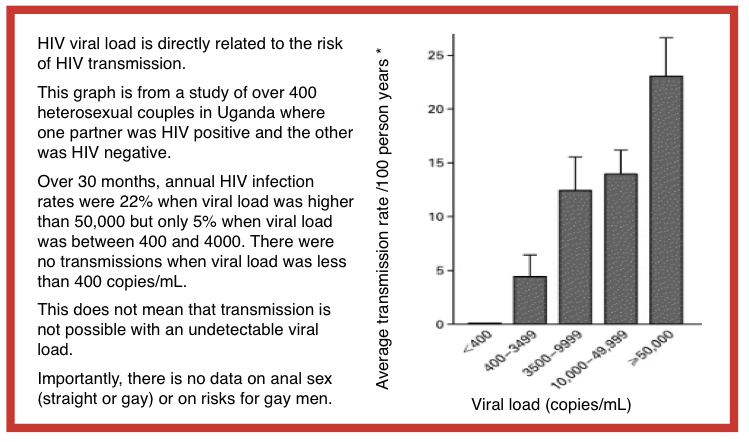 NOTE: One person year in research refers to 12 months of data in a study. For example, 100 person years could be 100 people all followed for one year or 200 people all followed for 6 months. This is used when calculating risks. It allows for all the time that different people contribute to a study, even when this might be years for one person and only months for another.
References
1. Donnell D and others. Heterosexual HIV-1 transmission after initiation of antiretroviral therapy: a prospective cohort analysis. Lancet. 2010;375(9731):2092-8.
http://www.ncbi.nlm.nih.gov/pmc/articles/PMC2922041/
See report from first conference presentation here.
2. The HPTN 052 Study: Preventing Sexual Transmission of HIV with Anti-HIV Drugs
Cohen M and others. Antiretroviral treatment to prevent the sexual transmission of HIV-1: results from the HPTN 052 multinational randomized controlled trial. 16th IAS Conference on HIV Pathogenesis, Treatment and Prevention, 17–20 July 2011, Rome. Oral abstract MOAX0102. Webcast
See report here.
3. Quinn TC and others. Viral load and heterosexual transmission of HIV type 1. Rakai Project Study Group. NEJM 2000; 342: 921-929.
http://www.nejm.org/doi/full/10.1056/NEJM200003303421303
1 February 2013