CROI 2015: HIV news from Seattle
20 February 2015. Related: News.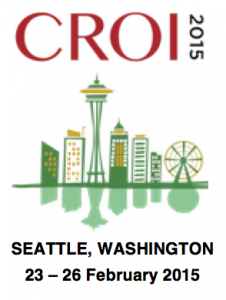 Simon Collins, HIV i-Base
The 2015 Conference on Retroviruses and Opportunistic Infections (CROI) is being held from 23-26 February in Seattle, Washington.
i-Base will post short news summaries to this page, and include links to longer reports as ahead-of-press articles for the new issue of HIV Treatment Bulletin (HTB).
CROI is the most important scientific medical conference and the programme and abstract book are both now available as PDF files.
CROI 2015 programme at a glance (PDF)
CROI 2015 abstract book  (PDF)
This year, the conference opened with important news about oral PrEP (including the PROUD and IPERGAY studies), gel PrEP and other HIV prevention options, including research to reduce mother to child transmission. Other key sessions included HIV-related complications, treatment for children, studies of new drugs in the pipeline and HIV pathogenesis – especially in the context of cure research.
Abstracts for each study are available in a searchable online database and some posters are available to download.
CROI 2015 – search abstracts and download electronic posters
Webcasts of all plenary lectures and oral research presentations are usually available the following day as webcasts.
Links below are to reports from the conference.
CROI 2015: PMTCT, women's health and paediatric care
CROI 2015: PrEP, TasP and HIV PREVENTION
CROI 2015: ARVs, TREATMENT STRATEGIES, CURE RESEARCH
CROI 2015: DRUG RESISTANCE, OTHER NEWS & MEETINGS