Pre-CROI meetings and workshops
24 March 2015. Related: Conference reports, Meeting report, CROI 22 (Retrovirus) 2015.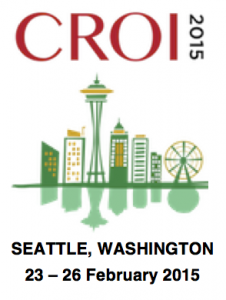 Two important two-day workshops were held immediately prior to CROI on 21-22 February. Links to these and other interesting meeting are included below.
XXIV International HIV Drug Resistance Workshop
This link include general information about the workshop and links to reports.
The report is about global rates of transmitted resistance. This is highest in the US, some countries in Europe, and Australia, but there are large differences in each region. The report also includes studies from Central America and Africa.
5th International Workshop on HIV & Women
Early reports from this workshops will be be included shortly.
START Study – INSIGHT group
On Saturday 21 February there was an all-day meeting of the Community Advisory Board for the INSIGHT research network. This is the group that is co-ordinating the international START study.
This is one of the most important ongoing studies with more than 4600 people enrolled. It is looking at the risks and benefits of starting HIV treatment early ART (when the CD4 count is above 500) compared to current UK evidence-based recommendation (when the CD4 count reaches 350). The study is currently fully enrolled and results are due in early 2017.
On Monday afternoon, there was an investigator meeting for the INSIGHT group that runs START and other studies. This meeting began with a showing of a video produced by the community from Uganda, in support of the START study.
Investigator meetings enable doctors, researchers and community representatives involved in a study to hear early results that have not yet been presented publicly.
It also includes discussions about practical issues affecting the main study. As a large study this meant that over 100 people attended this meeting.
A key theme was that no new data has become available that changes the main design of START. This looks at the advantages and disadvantages of starting HIV treatment when the CD4 count is above 500 compared to waiting until the CD4 count reaches 350.
So even though some treatment guidelines are recommending earlier treatment, this is generally related to public health benefits of reducing the population risk of HIV transmission, rather than proven clinical health benefits for the person taking treatment.
Baseline information about people enrolled in the main study and related substudies are routinely published in the annual DSMB reports, which run to more than 60 pages. These are open access report published to the INSIGHT website:
http://insight.ccbr.umn.edu
Here is a direct link to PDF file of May 2014 report:
http://insight.ccbr.umn.edu/official_documents/START/open_DSMB/START_OpenDSMB_30May2014.pdf (PDF)
WHO meetings on HIV dose optimisation and on new hepatitis C treatment
On Sunday 22 February, the World Health Organisation (WHO)  organised two meetings on HIV dose optimisation and access to new HCV drugs.
These meetings summarised where we are and what needs to be done with antiretroviral treatment optimisation for low- and middle income studies.
For the first – a satellite meeting linked to CROI – an i-Base booklet was used as a background overview: "Fit for purpose: antiretroviral treatment options". This is an update of a chapter from the annual TAG/i-Base pipeline report. It is available to download in PDF format.
https://i-base.info/htb/26960
https://i-base.info/htb/wp-content/uploads/2014/07/iBase-fitforpurpose2014final-web.pdf (PDF download)
The meeting covered:
Use of lower dose efavirenz.
How to use integrase inhibitors in first- or second-line.
Aligning adult and paediatric ART.
Access to new HCV treatment in low- and middle-income countries.
Kenly Sikwese from AFROCAB is attending to provide a community patient perspective.
On Sunday evening the WHO held a smaller closed think-tank meeting on HIV optimisation and HCV treatment access.
Community HIV cure meeting
A community meeting focused on HIV cure research is organised for Sunday 22 February.
This is a collaborative community workshop co-sponsored by AIDS Treatment Activists Coalition (ATAC), AVAC, Project Inform, and Treatment Action Group (TAG).
This meeting concludes with the launch of a new community advocacy cure curriculum resource.
NIH workshop on long acting HIV drugs and formulations
Also on Sunday, in the afternoon, we are involved in a meeting focused on the development programme of long-acting HIV drugs.
This meeting will focus on:
The need for long-acting formulations including for children and adolescents.
The best candidate in development.
How to accelerate access and approval.
Technical issues linked to drug development.
PARTNER Study – investigator meeting
The PARTNER study generated headline news last year at CROI 2014 with interim results that report how effectively HIV reduces the risk of HIV transmission.  (See report here).
These results were that even after 44,500 potential risk exposures from  couples not using condoms for vaginal or anal sex, there were no linked transmissions.  One partner was HIV positive with undetectable viral load on treatment and the other was HIV negative.
Details of new data at investigator meetings can't be reported, but the full results of the study have been submitted for publication, and will hopefully be available soon.
The meeting – held at 7.15 am – included a presentation on the technical aspects of how the study was able to show that any new infections were not related to catching HIV from the partner who was HIV positive.
The meeting also talked about the PARTNER 2 study. This is an extension of the PARTNER study that continues to follow gay male couples for longer and to enrol new gay couples. This is to ensure that there is the same amount of data for anal sex as for vaginal sex.
PARTNER 2 is already enrolling new couple – please publicise this or consider enrolling if you are in a serodifferent relationship and do not always use condoms.
For more information see the PARTNER2 study website:
http://www.cphiv.dk/PARTNER-2
EACS guidelines – complications and side effects
Another early morning meeting – this time on Wednesday – was for one of the working groups for the European treatment guidelines produced by EACS,
These guidelines are produced are produced in a format that is mainly reference tables for best practice – rather than lots of text and references.
They are updated annually – mainly working by email and teleconferences – but also try to have case-to-face meetings at some of the major conferences.
The November 2014 (version 7.1) are online, in PDF format, and for mobile devices (Apple, Android etc):
http://www.eacsociety.org/guidelines/eacs-guidelines/eacs-guidelines.html