Introduction and access to PrEP in the UK – including PrEP and coronavirus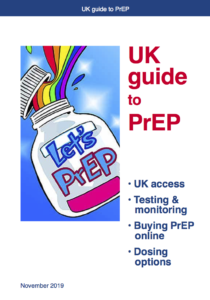 NOTE: PrEP is now available free on the NHS across the UK including in England. Although COVID-19 has affected services you can still access free PrEP. Please scroll down to see information about PrEP and COVID-19 (coronavirus).
Introduction
This is a UK guide to Pre-Exposure Prophylaxis (PrEP).
PrEP currently refers to a pill containing two HIV drugs: tenofovir plus emtricitabine.
When taken correctly, PrEP greatly reduces the risk of HIV sexual transmission.
Access to PrEP in the UK
PrEP should now be available wherever you live in the UK.
Some people might still want to buy PrEP privately online or from Dean Street PrEP Shop (dean.st/prepshop). The rough cost (at time of printing) is less then £20 for 30 tablets.
This online resource at Dean Street will help you find a sexual health clinic close to your postcode where you can now get PrEP for free on the NHS.
PrEP shop is also available from the John Hunter Clinic at the Chelsea and Westminster Hospital in west London.
(https://www.chelwest.nhs.uk/services/hiv-sexual-health/clinics/john-hunter-clinic-for-sexual-health/prep-shop-at-jhc)
PrEP and COVID-19 (coronavirus) – January 2021
PrEP meds are still available through the coronavirus health crisis. However, most PrEP clinics will be rearranging services to protect your health and reduce risk of further cases of COVID-19.
This will likely mean testing less frequently for HIV and STIs, but PrEP will still be safe and effective.
However, the urgency of social physical isolation also includes limiting physical interactions with new sexual partners.
This isn't going to be easy but it will protect both your health and the wider community – especially during the weeks from the end of March and the first weeks of April 2020.
For more information on PrEP and coronavirus, please see this information from HIV Scotland that i-Base contributed to.
Sensible advice on sex and COVID-19 is included in the link from NYC.
Updated January 2021.
Last updated: 25 January 2021.