Dolutegravir studies continue to show promise
1 April 2012. Related: Conference reports, Antiretrovirals, Pregnancy, CROI 19 (Retrovirus) 2012.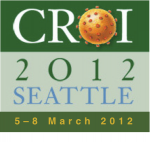 Simon Collins, HIV i-Base
Results from the SPRING-1 dose-finding study of dolutegravir plus two nukes (abacavir/3TC or tenofovir/FTC) compared to the FDC efavirenz/tenofovir/FTC (Atripla) were presented in a late-breaker oral session and were broadly similar at 96 weeks to 48 week results for the 50 mg arm. [1]
Two hundred and five subjects were randomised to receive dolutegravir at 10 mg, 25 mg or 50 mg once daily compared to efavirenz. Participants were 86% male, 80% white, 26% >100,000 copies/mL viral load, and 67% used tenofovir/FTC as the nucleoside backbone.
At week 96 the proportion of subjects with viral load <50 copies/mL (TLOVR) was 79%, 78% and 88% in the 10 mg, 25 mg and 50 mg arms respectively vs 72% in the efavirenz arm. Virological failure occurred more frequently in the lower dose arms: in 13% (n=7), 8% (n=4), 4% (n=2) and 8% (n=4) of the 10 mg, 25 mg, 50 mg and efavirenz arms respectively but these were low study numbers and half these patients who counted as failure by TLOVR analysis resuppressed to below 50 copies/mL by week 96. No mutations associated with resistance to integrase inhibitors or NNRTIs were seen in these patients.
CD4 increases were not statistically different at week 96: +338 cells/mm3 for the combined dolutegravir arms vs +301 cells/mm3 for efavirenz (p = 0.155).
Only two people discontinued dolutegravir due to side effects (one in each of the 25 mg and 50 mg arms) compared to five in the efavirenz group. Side effects were lower in the dolutegravir arms although serious side effects were similar. The only grade 3/4 lab abnormalities were single cases of ALT elevation associated with acute hepatitis C. No differences in renal markers were observed between the two groups.
A second oral presentation reported from a phase 1 pharmacokinetic study in HIV negative people that an increased dolutegravir dose (50 mg twice-daily) overcomes an interaction with rifampin. [2]
Five other posters expanded the profile of this important new integrase inhibitor.
These included:
Exciting results on a paediatric granule formulation that produced higher levels compared to the oral tablet in HIV negative volunteers used oral or dissolved irrespective of liquid. [3]
Results from a single dose pharmcokinetic study in HIV positive adults with mild-moderate liver impairment suggested that dolutegravir could be used without dose modification in these patients. [4]
Reporting a higher genetic barrier to resistance in vitro that may differ by HIV subtype and identification of mutations R236K and H51Y in subtype B. [5]
Similar potency against raltegravir-associated mutations in HIV-2 as HIV-1 [6]
comment
The oral presentation of the SPRING-1 study was uncharacteristically understated: "dolutegravir has some attributes that might make it interesting for use in combination therapy" before listing once-daily dosing, no boosting, low PK variability, few expected drug interactions, potentially distinct resistance profile to raltegravir and high potency at a low milligram dose.
Further studies with this compound will be followed closely together with the back-up GSK-1265744 compound that may be used at even lower milligram doses (5-10 mg). Low milligram compounds have the potential as less expensive options to PI-based combinations in low-income countries, if patent issues are overcome.
Currently, a fixed dose formulation of dolutegravir with abacavir and 3TC has completed initial PK studies.
On 2 April, as this issue of HTB went to press, top-line results were released from the SPRING-2 phase 3 study in treatment-naive adults reporting dolutegravir to be non-inferior to raltegravir. [7]
References
Unless stated otherwise, all references are to the Programme and Abstracts for the 19th Conference of Retroviruses and Opportunistic Infections, 5–8 March 2012, Seattle.