ddI resistance in South African children failing an abacavir or d4T based first-line regimen
1 April 2013. Related: Conference reports, Antiretrovirals, Paediatric care, Resistance, CROI 20 (Retrovirus) 2013.
Polly Clayden, HIV i-Base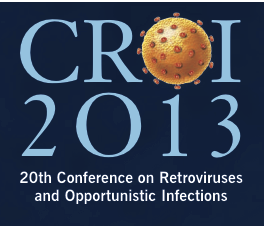 In 2010 the preferred first-line regimen for South African children changed from d4T/3TC to abacavir (ABC)/3TC-based regimens. The second-line regimen is based on AZT/ddI.
Kim Steegen and colleagues from Johannesburg showed data at CROI 2013 from a retrospective study of drug resistance after first-line virologic failure conducted to investigate the implications for a ddI-based second line regimen.
This analysis was performed using a retrospective dataset of 370 antiretroviral drug resistant genotypes from children <15 years who had failed on either ABC (n=91) or d4T (n=279) based regimens between 2009 and 2012. Data were retrieved from the HIV genotyping laboratory at Charlotte Maxeke Johannesburg Academic Hospital. The investigators submitted the obtained pol sequences to the Stanford HIV database for genotypic predictions.
The children were a mean age of 8 years with viral load of 4.6 log10 copies/mL. The mean viral load was significantly higher in the ABC compared to the d4T group, p=0.03. The d4T group had been receiving ART longer than the ABC group, respectively 37 and 21 months, p<0.0001.
As the investigators noted, it was predictable that the majority of children (n=290) developed the M184V/I mutation conferring resistance to 3TC/FTC. At time of failure, 61.7% of children exposed to ABC demonstrated high-level resistance to ABC compared to 7.3% exposed to d4T, p<0.0001. But development of intermediate resistance to ABC was more common in children exposed to d4T, occurring in 87.2% compared to 23.5% in the ABC group, p<0.0001. A surprisingly large proportion of children remained susceptible to d4T regardless of exposure to ABC (77.8%) or d4T (74.7%).
Predicted reduced susceptibility to ddI occurred frequently in the ABC-exposed group: 49 (60.5%) and 7 (8.6%) children developed high and intermediate levels of resistance respectively. The investigators explained that this was most commonly attributed to L74V/I (n = 39) and to a lesser extent K65R (n = 8) mutations.
Despite the lower occurrence of high-level ddI resistance after d4T-exposure (n=25, 9.2%), a considerable proportion of children in this exposure group still developed intermediate resistance to ddI (n=93, 34.1%)
The investigators concluded that the currently recommended 2nd-line regimen for children in South Africa is far from ideal, given the high frequency of cross-resistance to ddI seen at 1st-line failure; especially after ABC exposure.
They suggest that a combination of AZT and recycled 3TC might provide a better 2nd-line backbone for children failing both ABC and d4T based regimens. In older children, they propose a combination of AZT and tenofovir for those exposed to d4T. They also write that these data provide evidence for the need to revise the current paediatric ART guidelines in South Africa.
Reference:
Kim Steegen K et al. High-level Resistance to didanosine observed in South African children failing an abacavir- or stavudine-based 1st-line regimen. 20th CROI, 3-6 March 2013, Atlanta, GA, USA. Poster abstract 952a.