48-week results for NNRTI doravirine compared to efavirenz
22 March 2016. Related: Conference reports, Antiretrovirals, CROI 23 (Retrovirus) 2016.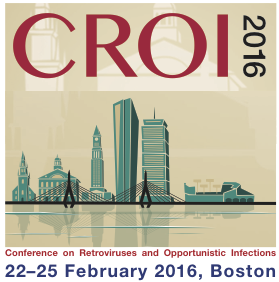 Simon Collins, HIV i-Base
Phase 2 results in treatment naive patients using doravirine (MK-1439) – an NNRTI in development with Merck – were presented in a poster from José Gatell from Barcelona Hospital and colleagues. [1]
This was a randomised, double-blind, placebo controlled phase 2 dose finding study in two parts. In part 2, new patients started using the selected 100 mg doravirine dose. All participants were treatment naive and used tenofovir DF/FTC as background NRTIs.
Combined 48 week data included 42 people randomised to the 100 mg once-daily dose in part one of the study plus 66 participants who were added in part two (n=108), compared with 109 control patients randomised to efavirenz.
Baseline demographics included ~90% men, 75% white, with mean age 35 (range 19-67) years and median CD4 count and viral load of approximately 425 cells/mm3 (range 92 to 1121) and 2.6 log copies/mL (range 2.6 to 6.7).
At week 48, viral suppression to <40 copies/mL was reported for 77.8% vs 78.7% of the doravirine vs efavirenz groups respectively, (difference -1.1%; 95%CI -12.2 to +10.0). There were slightly fewer discontinuations in the doravirine group (12% vs 14.7%) which included fewer discontinuations related to side effects (2.8% vs 5.5%).
In patients with baseline viral load <100,000 copies/mL approximately 87% in each group reached <40 copies/mL at week 48 but greater suppression was reported for the efavirenz group for those starting with viral load >100,000 copies/mL (74% vs 84%). Both groups reported 91% rates using a <200 copies/mL test.
There were few laboratory abnormalities greater than grade 2 but lipids, liver enzymes and lipase generally favoured the doravirine group and abnormal glucose fasted occured slightly more in the doravirine group (3.2 % va 1.1%).
Ongoing studies include as part of a single tablet, fixed dose combination with generic NRTIs: doravirine/tenofovirDF/3TC. [2]
References:
Gatell JM et al. Doravirine 100mg QD vs efavirenz +TDF/FTC in ART-naive HIV+ patients: week 48 results. 23rd CROI, 22 – 25 February 2016, Boston. Poster abstract 470.
http://www.croiconference.org/sessions/doravirine-100mg-qd-vs-efavirenz-tdfftc-art-naive-hiv-patients-week-48-results (Abstract)
http://www.croiconference.org/sites/default/files/posters-2016/470.pdf (PDF poster)
Clinicaltrials.gov listing. Effects of switching from ATRIPLA (efavirenz, tenofovir, emtricitabine) to MK-1439A (doravirine, tenofovir, lamivudine) in virologically-suppressed participants (MK-1439A-028)
https://clinicaltrials.gov/ct2/show/NCT02652260