2nd HIV Research for Prevention Conference (HIVR4P) 2016, 17-20 October 2016, Chicago
29 November 2016. Related: Conference reports, HIV prevention and transmission, Conference index, R4P 2016 Chicago.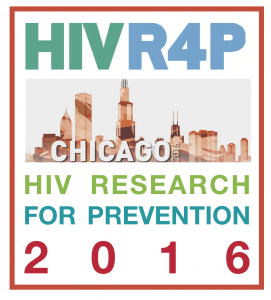 This second biennial HIV Research for Prevention (HIVR4P) conference was held this year in Chicago from 17 to 21 October.
Although the conference programme is online, this does not link to the study abstracts, but the abstract are available as a PDF file. These are also available using an App that is free to download.
The programme was very varied and included a strong focus this year on the pipeline for new formulations and compounds for pre-exposure prophylaxis (PrEP).
Importantly, all oral sessions are webcast 24 hours after the presentations.
Abstracts are published as an open-access supplement to AIDS Research and Human Retroviruses. (http://www.liebertpub.com/aid). Many conference posters are available to view and download online.
Programme:
http://www.professionalabstracts.com/hivr4p2016/iPlanner/#/grid
Webcasts:
http://webcasts.hivr4p.org
Abstract book:
http://hivr4p.org/images/HIVR4P_2016_Abstract_Book.pdf  (PDF)
App:
Search Apple Store or PlayStore for "HIVR4P2016"
Posters
http://www.abstractstosubmit.com/hivr4p2016/eposter
The following reports from this conference are included in this issue of HTB.