Once-daily raltegravir formulation matches twice-daily results in age, gender, race and baseline viral load/CD4 subgroup analyses
29 November 2016. Related: Conference reports, Antiretrovirals, HIV 13 Glasgow 2016.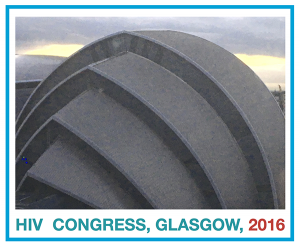 Simon Collins, HIV i-Base
The once-daily formulation of raltegravir showed similar efficacy and safety results compared to the original twice daily formulation across all demographic and baseline subgroups, further supporting non-inferiority compared to the current twice-daily version. [1]
The new formulation is dosed at 1200 mg once-daily (requiring 2 x 600 mg tablets) compared to the original formulation (dosed at 1 x 400 mg tablet twice-daily).
The new analysis was presented by Pedro Cahn from Fundacion Huesped, Buenos Aires, using pre-specified subgroups in the phase 3 ONCEMRK study.
The findings add to the primary efficacy and safety results that were presented at the IAS conference in Durban in July 2016 (that were also reported in HTB). In summary, 89% of participants suppressed viral load to <50 copies/mL at week 48 for both formulations with similar CD4 increases and safety results. [2, 3]
As with the primary analysis, the sub-group analysis found no differences between formulations by baseline viral load (above/below 100,000 and 500,000 copies/mL), CD4 count (above/below 200 cells/mm3), age (above/below median 34 years), gender, race/ethnicity or coinfection with HBV or HCV. No differences were seen by geographical location or for clade B vs C.
Side effects were also similar between the two formulations for all sub-groups.
References:
Cahn P et al. Subgroup analyses from ONCEMRK, a phase 3 study of raltegravir (RAL) 1200 mg once daily versus RAL 400 mg twice daily, in combination with tenofovir/emtricitabine, in treatment-naïve HIV-1-infected subjects Webcast:
https://vimeo.com/189136477
Cahn P et al. Raltegravir (RAL) 1200 mg once daily (QD) is non-inferior to RAL 400 mg twice daily (BID), in combination with tenofovir/emtricitabine, in treatment-naïve HIV-1-infected subjects: week 48 results. AIDS 2016, 18-22 July 2016, Durban. Oral late breaker abstract FRAB0103LB.
http://programme.aids2016.org/Abstract/Abstract/10312 (Abstract)
http://www.natap.org/2016/IAC/IAC_91.htm (Slides online thanks to natap.org)
Collins S. Once-daily raltegravir at last available: 48 week results from ONCEMRK study. HTB July/August 2016.
https://i-base.info/htb/30382