Once-daily raltegravir at last available: 48 week results from ONCEMRK study
1 August 2016. Related: Conference reports, Antiretrovirals, World AIDS 21 Durban 2016.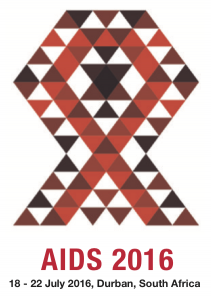 Simon Collins, HIV i-Base
After many years of research, Merck now have a once-daily formulation of raltegravir – though it requires two tablets and a higher milligram daily dose.
In addition to developing the new raltegravir formulation, non-inferiority needed to be shown in a randomised, double-blind placebo controlled phase 3 study, rather than relying on pharmacokinetic bioequivalence studies. The original raltegravir 400 mg twice-daily version was compared to the new 2 x 600 mg once-daily formulation, with background NRTIs tenofovir DF + FTC for all participants.
Results of this study were presented as a late-breaker oral abstract at AIDS 2016 by Pedro Cahn from Fundación Huesped, Buenos Aires.
Of the 802 participants randomised 2:1 to the once- vs twice-daily formulations, 797 received study drug and 732 (92%) completed follow-up to week 48.
Baseline characteristics overall included a study population that was 85% male, 59% white and mean age 36. Mean CD4 and viral load were 415 cells/mm3 and 4.6 log copies/mL respectively, with 28% having viral load >100,000 copies/mL.
At the primary endpoint at week 48, viral suppression to <40 copies/mL was reported by 88% of each arm with no significant differences related to efficacy or tolerability between arms. The once-daily formulation has slightly fewer serious side effects (5.8% vs 9.4%; difference –3.6% [95%CI: –8.0 to +0.2]) and discontinuations due to side effects (0.8% vs 2.3%; difference –1.5 [95%CI: –4.1 to + 0.1]), though neither difference was statistically significant.
Viral failure during the study (defined as non-suppression by week 24 or more than one consecutive blip >40 copies/mL) was reported in 7% of each group. Of these, approximately half resuppressed by week 48 without changing treatment: 20/26 vs 8/18 in the once-vs twice-daily arms groups respectively.
Of the 5/14 with drug resistance in the once-daily arm, 4/5 (0.9%) had resistance to raltegravir. Of the three people tested in the twice-daily arm, 2/3 had no resistance and 1/3 failed testing.
The study will continue until week 96 for secondary endpoint analyses.
Comment
Although raltegravir was the first integrase inhibitor to be approved – the results of more than a decade of commitment to this new class – the higher price compared to existing combinations meant that many people who could have benefitted were not able to access this drug.
As newer integrase inhibitors became available, the twice-daily formulation meant that even after lowering the price, raltegravir had a limited market.
In the meantime, some doctors reported switching the twice-daily 400 mg formulation to 800 mg once-daily after viral load was suppressed to <50 copies/mL. While these reports were largely positive this off-label use had limited uptake.
Reference
Cahn P et al. Raltegravir (RAL) 1200 mg once daily (QD) is non-inferior to RAL 400 mg twice daily (BID), in combination with tenofovir/emtricitabine, in treatment-naïve HIV-1-infected subjects: week 48 results. AIDS 2016, 18-22 July 2016, Durban. Oral late breaker abstract FRAB0103LB.
http://programme.aids2016.org/Abstract/Abstract/10312 (Abstract)
http://www.natap.org/2016/IAC/IAC_91.htm (Slides online thanks to natap.org)