Seattle-lite: pre-conference workshops – watch online
27 February 2017. Related: Conference reports, On the web, CROI 24 (Retrovirus) 2017.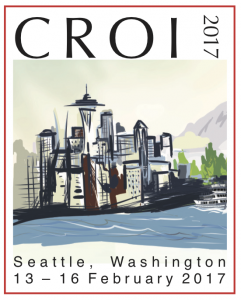 Simon Collins, HIV i-Base
The commitment to providing all presentations online as open access educational resources is one of the most impressive aspect of the annual CROI meetings.
Options include to watch the presentations with slides, download audio only or as podcasts, pause, repeat, enlarge slides to catch the details – and that this now becomes live on the same day.
And every year, before the main conference, state-or-the-art lectures provide sharp overviews of key subjects. Each lecture reviews current knowledge on the subject and sets the background for the new research that will be presented during the main conference.
So these lectures are already online – and are an excellent way to spend an hour or two to sharpen your knowledge.
This year's programme is listed below. Pick your favourite and click a link…
Workshop 1: Science and cure
Molecular virology: Understanding HIV – Paul Bieniasz
Advances in antibodies – Richard Koup
Advances in prevention – James McIntyre
HIV complications – Judith Currier
HIV reservoirs: obstacles to a cure – Nicolas Chomont
Martin Delaney Lecture: Good practice in research and involving the community
History and principles of good practice – Stacey Hannah
Good practice in prevention trials – Deborah Baron
Good practice in cure trials – David Evans
Workshop 2 Clinical trial design
Prevention trials in the PrEP era – Deborah Donnell
Implementation of trials –
James R. Hargreaves
Recruiting hard to reach populations – Carl A. Latkin
Workshop 3: Frontiers in lab science
High throughput genome engineering – Judd Hultquist
Identifying and profiling virus-specific T cells –
Evan William Newell
Quantifying HIV-1 MRNA structure – Silvi Rouskin
Workshop 4: Hepatitis C – interactive case studies
Staging and treatment of early stage HCV – John Scott
Resistance to DAAs and retreatment of chronic HCV – Alessandra Mangia
Common drug interactions with DAAs – Debika Bhattacharya
Issues with cirrhosis – Sanjay Bhagani