Dual therapy with darunavir/r plus lamivudine as first-line ART
1 October 2017. Related: Conference reports, Antiretrovirals, IAS 9th Paris 2017.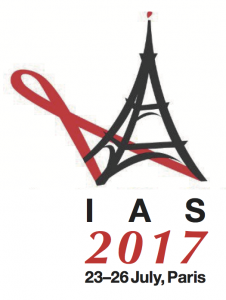 Simon Collins, HIV i-Base
Dual therapy using boosted darunavir plus lamivudine for first-line ART was compared to standard triple therapy (with added tenofovir DF) in a randomised open-label phase 4 study.
The ANDES study enrolled 145 treatment-naive participants in sites in Argentina. Interim viral efficacy results at 24-week results using <400 copies/mL cut-off (presented as a late-breaking oral abstract at IAS 2017) were used to determine whether the study enrolled an additional 190 participants with primary endpoint of viral suppression <50 copies/mL at week-48.
Baseline characteristics included median age 30 (IQR: 25 to 39) years, 91% male. Median baseline CD4 and viral load were 383 (IQR: 286 to 562) cells/mm3 and 4.5 (4.0-5.0) log copies/mL respectively, with 24% having viral load >100,000 copies/mL.
At week-24, viral suppression <400 copies/mL was reports for 95% vs 97% participants in the dual vs triple therapy groups (difference: –2.5%; 95% CI: –7.9 to 2.9). Median CD4 increases were also similar: +206 vs +204 cell/mm3, respectively.
Although there were more discontinuations in the dual therapy arm (4 vs 1), the only case of virological failure was in the triple-therapy arm.
Side effects were broadly similar, but GI side effects were more common in the triple therapy group (6% vs 12%).
The second phase of this study in now enrolling to provide 48-week final data.
Reference
Cahn P et al. Dual therapy with darunavir/ritonavir plus lamivudine for HIV-1 treatment initiation: week 24 results of the randomized. ANDES study. Late breaker oral abstract MOAB0106.
http://programme.ias2017.org/Abstract/Abstract/5615 (abstract)