22 January 2018: vol 19 no 2
22 January 2018. Related: Editorial.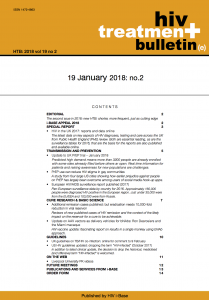 Welcome to the second HTB for 2018.
For those readers rubbing your eyes, yes, this is part of the re-launched HTB schedule.
Faster, shorter, more frequent – yet just as cutting edge…
This issue includes a special report on the PHE UK incidence data, PrEP news with an update from the IMPACT study, and reviews on key papers related to cure research. And another chance to learn about the Miami macaque case if you missed this when it was published ahead of print in December.
New BHIVA TB coinfection guidelines are online for your comment.
And a victory for HIV positive people who have been asking doctors and researchers to use alternatives to the term "HIV-infected": the latest US HIV guidelines have now adopted better, friendlier and less stigmatising language.
i-Base presented research on the impact of medical language at the IAS conference in 2010, [1] contributing to the changes in BHIVA guidelines from 2012 and EACS guidelines from 2013.
As with the US CDC endorsement of the U=U campaign, the weight from the change in the US guidelines is important.
Reference
1. HIV positive vs HIV infected: reducing barriers to clinical research through use of appropriate and accurate language. AIDS 2010, Vienna. Abs THPE0516.
http://www.abstract-archive.org/Abstract/Share/3331