UK HIV pregnancy guidelines (2018): online for comment
9 February 2018. Related: Guidelines.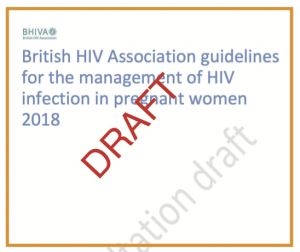 BHIVA.org
A draft of the 2018 update to the Guidelines for the management of HIV infection in pregnant women (BHIVA) is now online for public comment.
The deadline for comments is 17.30 on Monday 19 February 2018.
The guidelines provide guidance on best clinical practice in the treatment and management of pregnant women living with HIV in the UK and their infants.
The scope includes guidance on the use of antiretroviral therapy (ART) both to prevent vertical transmission of HIV and for the welfare of the mother herself, guidance on mode of delivery and recommendations in specific patient populations where other factors need to be taken into consideration, such as co-infection with other agents.
The 2018 guidelines have identified significant developments that have either led to a change in recommendation or a change in the strength of recommendation. More detail has been added in areas of controversy, particularly breastfeeding. A new section on the postnatal management of women has been added and prevalence data from the UK have been updated. Other changes include:
All women are now recommended to start on treatment and remain on it lifelong, including elite controllers.
New data on the safety of raltegravir, rilpivirine, dolutegravir and elvitegravir have been added.
Discussion on choice of NRTIs – especially that BHIVA support the safety of tenofovir DF during pregnancy.
Information has been added on tenofovir alafenamide for hepatitis B and direct acting agents for hepatitis C.
The length of infant PEP has been shortened where risk of vertical transmission is very low.
Updated infant feeding advice to include new data on breastfeeding and the emotional impact not breastfeeding may have on women. We discuss the use of cabergoline in non-breastfeeding women.
Expanded section on 'The psychosocial care of women living with HIV during and after pregnancy' and moved its position within the guidelines.
A new section on the postnatal management of women living with HIV.
Link for download and for make comments:
http://www.bhiva.org/pregnancy-guidelines-consultation.aspx