BHIVA standards of HIV care (2018): online for comment
9 February 2018. Related: Guidelines.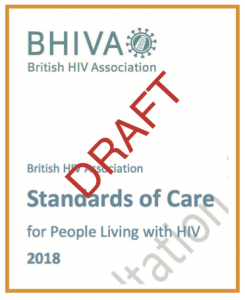 BHIVA.org
A draft of the 2018 update to the BHIVA Standards of Care for People Living with HIV is now online for public comment.
The deadline for comments is 17.30 on Tuesday 20 February 2018.
This publication is an update to the 2013 edition.
The standards cover:
Testing, diagnosis and prevention.
Person-centred care.
HIV outpatient care and treatment.
Complex HIV care.
Sexual and reproductive health.
Psychological care.
HIV across the life course.
Developing and maintaining excellent care.
Link for download and comments:
http://www.bhiva.org/standards-of-care-consultation.aspx