Once-daily reduced dose darunavir/ritonavir (400 mg/100 mg) is non-inferior to twice-daily lopinavir/ritonavir in South African switch study  
3 August 2018. Related: Conference reports, Treatment strategies, World AIDS 22 Amsterdam 2018.
Polly Clayden, HIV i-Base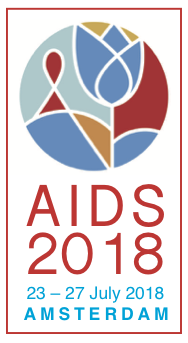 Stable patients on a twice-daily lopinavir/ritonavir (LPV/r)-based second-line regimen who switched to a once-daily 400/100 mg darunavir/ritonavir (DRV/r) one maintained similar virological suppression to those who remained on LPV/r at 48 weeks. [1] These data from Johannesburg were presented at AIDS 2018.   
The approved dose of DRV/r is 800/100 mg once daily for people with no PI resistance. [2] DRV/r is rarely used in sub-Saharan Africa because of its high cost. DRV/r is considered to be a good candidate for dose optimisation. [2]
In this study, 300 participants, stable on 2 NRTI + LPV/r with viral load < 50 copies/mL, were randomised to 2 NRTI + DRV/r 400/100 mg once daily (n=148) or to continue on their LPV/r-based regimen (n=152).
The study defined treatment success as viral load <50 copies/mL at week 48 (FDA snapshot). Treatment arms were compared using the new FDA non-inferiority margin for switch studies of -4%, using the Intent to Treat (ITT) population.
At baseline participants were 68% female and 99.7% black, with median of age 42 years, and CD4 count >600 cells/mm3.
In the primary efficacy analysis, viral load < 50 copies/mL by week 48 was 95.3% in the DRV/r arm versus 93.4% in the LPV/r arm. Difference +1.9% (95% CI: -3.7% to +6.5).
DRV/r at the lower dose of 400/100 mg once daily showed non-inferior efficacy to LPV/r in this switch study.
comment
These results support further studies with low dose DRV/r, including in PI-naive second-line patients.
Optimised DRV/r 400/100 mg could be cheaper to produce than LPV/r and atazanavir/r. 
References
Venter F et al. Non-inferior efficacy for darunavir/ritonavir 400/100 mg once daily versus lopinavir/ritonavir, for patients with HIV RNA below 50 copies/mL in South Africa: The 48-week WRHI 052 study. IAS 2018. 23–27 July 2018. Oral abstract TUAB0107LB.
http://programme.aids2018.org/Abstract/Abstract/13192
Clayden P. Fit for Purpose: antiretroviral treatment optimisation. July 2018.
https://i-base.info/htb/34533