PARTNER 2 study published in the Lancet: global news coverage that ART stops HIV transmission
3 May 2019. Related: HIV prevention and transmission.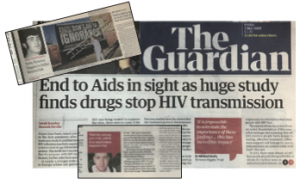 Simon Collins, HIV i-Base
On 2 May 2019, the final results from the PARTNER study, including the full results in gay men, were published as an open access article in the Lancet. [1]
Although these data were widely reported when they were presented at the IAS conference in Amsterdam last year [2], the high profile of the Lancet, which also included an accompanying editorial commentary and its own press release, meant that this research was picked up by mainstream news media.
Radio 4 news reported that "for many years evidence has been building that drug treatments for HIV reduce the virus to such low levels in the body that passing it on through sex is no longer a risk". [3]
Alison Rodger, Professor of Infectious Diseases at the Institute for Global Health at UCL London and lead author on the paper explained in the interview how the study "provides conclusive evidence that if you are on effective HIV treatment that you cannot pass on the virus. This should normalise HIV. It supports the message of the U=U campaign, that having an undetectable viral load makes HIV untransmissable."
The Guardian made this a front page story, although somewhat prematurely heralding "an end to AIDS". [4]
Actually, the level of news coverage was unprecedented, even compared to the "AIDS cure" coverage from CROI 2019 earlier in 2019. This was a study in viral news.
Every major media outlet in terms of national press and television covered this story often with interviews with members of the study team or other HIV organisations. [5]
The story was quickly picked up by smaller regional media and social media. The coverage in English was mirrored by similarly wide coverage in other languages. The PARTNER study made global news.
Simon Collins is a community representative on the PARTNER study.
comment
This is all good news and the high level of interest across mainsteam media show its immediate importance.
References
Rodger AJ et al. Risk of HIV transmission through condomless sex in serodifferent gay couples with the HIV-positive partner taking suppressive antiretroviral therapy (PARTNER): final results of a multicentre, prospective, observational study. Lancet 2019; published online May 2. (Open access)
http://dx.doi.org/10.1016/S0140-6736(19)30418-0
Collins S. Zero HIV transmissions in PARTNER 2 study after gay couples had sex 77,000 times without condoms – an undetectable viral load stops HIV. HTB, 3 August 2018.


https://i-base.info/htb/34604

Radio 4 news. 3 May 2019; Interview at approximately 06:49 am. Available on BBC i-Player.
Bosely S et al. End to Aids in sight as huge study finds drug stop HIV transmission. The Guardian. 23 May 2019.
https://www.theguardian.com/society/2019/may/02/end-to-aids-in-sight-as-huge-study-finds-drugs-stop-hiv-transmission
Google news. Compilation from Google search "HIV transmission 3 may 2019". (3 May 2019).
https://news.google.com/stories/CAAqSQgKIkNDQklTTERvSmMzUnZjbmt0TXpZd1NoOGFIV1JtTTJ0UFIweFRUblJOYUhod1RYSlRiSEowWW1oTlJsOUtjRzlOS0FBUAE?q=hiv+3+may+2019+transmission&lr=English&sa=X&ved=0ahUKEwj_-_rv2YviAhWfRBUIHYJPBeIQqgIILTAA&hl=en-GB&gl=GB&ceid=GB:en