Selected articles by UCSF: download 60 papers
27 March 2020. Related: COVID-19: research studies, COVID-19: on the web, COVID-19.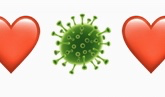 Simon Collins, HIV i-Base
As we went to press this download link became available the download a compressed zip file (760 MB) that expands to more than 60 papers.
These cover epidemiology, immunology, radiology, PPE and occupational health, paediatrics, ethics and other studies, some of which are also included in this HTB review.
It also includes hospital protocols for managing COVID-19
https://mega.nz/#!fQhzSbLL!1lHHEp1lmvZyNZqkhIdTjfCZGgldO0j6coplF-4MUMc (direct link to download compressed file)