US NIH vaccine chief optimistic on prospects for SARS-CoV-2 vaccine
17 April 2020. Related: COVID-19: vaccine research, COVID-19: transmission & prevention, COVID-19.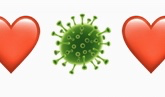 Mark Mascolini, natap.org
In a video by fivethirtyeight.com editor Anna Rothschild, the director of the Vaccine Research Center at the US National Institutes of Health, John Mascola, says, "I am quite hopeful that we will . . . find a vaccine that works [against SARS-CoV-2] in the time frames that people like Dr. Fauci have been talking about [within 18 months]. . . . I think the data we have from the laboratory side of things suggests that a vaccine should work against a coronavirus."
The Rothschild video, "How Close Are We to a COVID-19 Vaccine?", can be viewed online or assessed via the following slightly abbreviated and edited transcript. 
These are the key points:
A phase 1 trial of a SARS-CoV-2 vaccine has begun, the fastest a vaccine has ever entered clinical trials in the United States.
The tested vaccine is an mRNA vaccine, and if licensed it would be the first mRNA vaccine against a human disease.
mRNA vaccines are easy to design and make in quantities needed for human trials, but no facilities are set up to produce large quantities of an mRNA vaccine right now.
The new coronavirus does mutate but not as fast as HIV mutates, for example. So Dr. Mascola does not expect that SARS-CoV-2 would mutate away from a vaccine within months or years.
Preliminary reports have circulated about some recovered COVID-19 patients producing very low levels of antibodies. That might mean that some people could get COVID-19 more than once.
Dr. Mascola said that should not affect prospects for coronavirus vaccine efficacy, because such a vaccine would be designed to promote a strong immune response.
Ref: How Close Are We to a COVID-19 Vaccine?
https://fivethirtyeight.com/videos/how-close-are-we-to-a-covid-19-vaccine