Coronavirus: the risks – know them – avoid them
14 May 2020. Related: COVID-19: transmission & prevention, COVID-19: on the web, COVID-19.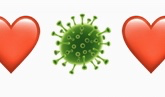 Simon Collins, HIV i-Base
This blog by Dr Erin Bromage, an associate professor of biology, is a very readable non-technical overview of the kinetics and risk of CoV-2 transmission.
It includes a breakdown of the risks involved in common daily activities and how to reduce these in order to stay safe as lockdown steadily relaxes.
https://www.erinbromage.com/post/the-risks-know-them-avoid-them