AVAC webinar with Barney Graham: COVID-19 vaccine targets, timelines, efficacy and ethical issues
28 August 2020. Related: COVID-19: vaccine research, COVID-19.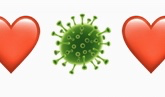 Simon Collins, HIV i-Base
An excellent webinar from AVAC on developments in COVID-19 vaccine research is now online featuring a talk by Barney Graham, Director of US NIH Vaccine Research Centre (VRC).
The talk reviews the rapid development timeline for COVID-19 vaccines, including the role played by HIV researchers and trial networks, and covers some of the recent research developments. 
This includes an update on the rapid development of the mRNA-1273 vaccine developed by Moderna and the NIH that started in January 2020 with phase 1, 2 and 3 studies in March, May and July, respectively. The phase 3 study has already enrolled 14,000 of the projected 30,000 participants. Endpoints will be collected two weeks after the second dose but early efficacy results will depend on enrolling participants in high incidence geographical regions.
Efficacy is also discussed in terms of overlapping but different aims. For example, whether the primary aim is to reduce mortality in highest risk (elderly) groups or to reduce transmission among the general population. Research into candidate vaccines has already focused on generating immune responses with older ages, including in mice and NHP studies.
The webinar covers some ethical issues of research including early access to effective compounds for participants who received placebo in phase 3 studies, and that by implication this will delay long-term data from the loss of the control group. 
Practical supply issues dependent on multiple companies to manufacture and supply any effective candidate and the balance between public/private collaborations are also discussed.
References
AVAC. Learning from Historic Vaccine Research & the Latest on the mRNA-1273 Candidate
https://www.avac.org/event/learning-historic-vaccine-research-latest-mrna-1273-candidate
https://www.youtube.com/watch?v=uXcA-mByGfw (YouTube webinar)
https://www.avac.org/sites/default/files/u81/AVAC_COVID19_vaccine_webinar_25_Aug2020_Dr_Barney_Graham.pdf (slides)