Serious complications commonly reported three months after recovery from COVID-19
9 December 2020. Related: COVID-19: complications, COVID-19: pathogenesis, COVID-19.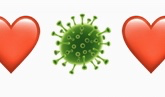 Simon Collins, HIV i-Base
Although many studies on COVID-19 initially focused on mortality rates 28 days after diagnosis there are limited data on longer-term outcomes in people who survive.
A Dutch study, by Bram van den Borst from Nijmegen Medical Centre and colleagues, report outcomes from COVID-19 three months after recovery in 124 participants. COVID-19 stage was categorised using WHO criteria as mild (n=27), moderate (n=51), severe (n=26) and critical (n=20) infection.
The chance for an intensive medical examination was offered consecutively to all people either hospitalised with COVID-19 at Radboud Medical Centre between 23 April and 15 July 2020 or not-admitted but who had symptoms for >6 weeks who were then referred by their GP.
The standardised detailed assessment included lung function, chest CT/X-ray, 6-minute walking test, body composition and questionnaires on mental cognitive health status and quality of life (QoL).
Baseline characteristics included mean age 59 years (+/– 14), 60% were male and 40% had comorbidities (median 1; IQR 0 to 2).
After three months, most participants recovered lung function, with 99% having reduced ground-glass opacification and 93% of people with mild COVID-19 had normal chest x-ray.
However, lung difusion capacity was less than normal for 43% and residual abnormalities were still present in more than 90% of discharged patients – and this correlated with diffusion capacity. Participants with critical COVID-19 (that involved longer hospital stays and mechanical oxygen) were more likely to still show signs of pulmonary fibrosis (50%).
Approximately one third of participants had abnormal mental status or cognitive function although this was not correlated with severity of COVID-19, suggesting this was not directly modulated by inflammation. Fatigue was also still common and less than 40% reported general and health-related QoL as normal.
The study concluded that a substantial percentage of participants reported severe problems in several aspects of health and that long follow-up studies were needed to predict complications related to long-term recovery.
comment
These results from a relatively small study support the increasing concern with longer term complications from COVID-19 and highlight the importance of further research.
This is even with a potential bias from self-selection of participants where continued symptoms might have influenced the decision to take part.
Reference
van den Borst B et al. Comprehensive health assessment three months after recovery from acute COVID-19. Clinical Infectious Diseases ciaa1750. DOI: 10.1093/cid/ciaa1750. (21 November 2020).
https://academic.oup.com/cid/advance-article/doi/10.1093/cid/ciaa1750/5998118
This article was first posted on 30 November 2020.