BHIVA and EACS update HIV as a higher risk for COVID-19: supports priority vaccine (January 2021)
22 January 2021. Related: COVID-19: HIV and COVID-19 coinfection, COVID-19.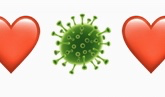 Simon Collins, HIV i-Base
On 15 January 2021, the British HIV Association (BHIVA) and the European AIDS Clinical Society (EACS) published an updated review on HIV and COVID-19. [1]
This includes an overview of recent research covering transmission, treatment and the latest vaccines from an HIV perspective. This is jointly published with other HIV organisations from Germany, Poland, Portugal and Spain.
The review is especially useful for highlighting approaches to HIV and COVID-19 in different EU countries.
Important changes since August 2020 are included below.
HIV is now linked to slightly higher risks from COVID-19. This is due to several large recent studies that are better powered to find small differences. Compared to the general population, HIV positive people are often affected at a lower average age.

HIV factors linked to poorer outcomes in some studies include not being on ART or having a detectable viral load, a low CD4 count (<350 cells/mm3) or the lowest-ever CD4 count (called CD4 nadir).
Including HIV as an independent risk is important for access to COVID-19 vaccines across the EU. Currently, some countries do not include HIV as a health condition for earlier vaccine access.
The newly approved vaccines are all discussed, including potential complications from using adenovirus vectors.
The Statement now references WHO guidelines against use of hydroxychloroquine at any stage of COVID-19, including as prophylaxis.
Recent evidence supporting use of IL-6 agonists including tocilizumab (including the REMCAP study) – though not yet recommended in all countries.
Famotidine and ivermectin are both discussed, though with limited evidence.
The overview includes another 20 references – now covering 82 studies.