Oxford/AZ vaccine might still prevent severe COVID-19 from B.1.351 variant: supports continued used in South Africa
9 February 2021. Related: COVID-19: vaccine research, COVID-19.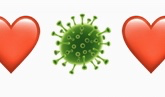 Simon Collins, HIV i-Base
On 7 February 2021, mainstream media publicised the decision in South Africa to suspend use of the Oxford/AstraZenica ChAdOx.1 vaccine in a vaccination programme that was about to start for health workers at high risk of infection.
This was based on low efficacy against the B.1.351 strain (also called the 501Y.V2 variant) that is currently dominant in South Africa. Specifically the vaccine had no impact on reducing mild symptoms of COVID-19 in people at low risk of more serious disease.
The few study details so far released include that the study involved just over 2,000 volunteers, with median age 31 years, and that mild COVID (defined by at least one symptom) was reported in 19 vs 20 participants in the placebo vs active group respectively. [1]
The timing of the study results was especially difficult because South Africa had just received one million doses of the Oxford/AZ vaccine for to vaccinate health worker.
The announcement also led to widespread confusion in other countries either using or planning to use this vaccine, as in many cases the Oxford/AZ vaccines will be the only current practical option based on lower cost and having easier storage and transport restrictions.
However, the outcome results might have been extremely positive in testing the vaccine in a real world setting, and still could still include an important role for the Oxford/AZ vaccine. This was further explained by Professor Shabir Madhi from Wits University, the principal investigator on the study, in webinar on 9 February organised by the Daily Maverick with 1400 participants. [2]
The webinar presentation, included the following explanation for the results together and implications for continued use of this vaccine in South Africa.
The study only provided results on mild infection because the study population were generally at low risk. The lack of effect showed that in this population, the Oxford/AZ vaccine neither prevented infection from the B.1.351 variant or prevented low-level symptoms. It did show that the B.1.351 variant is able to evade and overcome the neutralising antibody responses generated by this vaccine.

However, the Oxford/AZ vaccine is still expected to be very effective against the more serious outcomes of severe COVID-19 in people at high risk. This is because the vaccine still generates cellular immune responses which are likely to protect against severe COVID-19 outcomes including mortality. Although it is too early to have clinical data on outcomes from the Oxford/AZ vaccine in people infected with B.1.351, it produces very similar immune response to those seen against the same variant with the (very similar) Johnson & Johnson (J&J) vaccine. [3] This point was emphasised by panelist Professor Glenda Gray, also an investigator on the J&J study in South Africa.
In practice, this means the Oxford/AZ vaccine would have no benefit for the expected 75% of health workers who would be expected to have low risk or mild COVID-19. However, it is still hoped to have significant benefit in the 25% of health workers whose other health factors put them at higher risk of severe COVID-19.
The study results therefore support pausing the proposed vaccine programme in order to prevent 75% of the vaccines being wasted on people who would have no likely benefit.
The webinar also highlighted several important practical points.
In settings with limited access to an alternative vaccine, people at high risk of severe COVID-19 should still use the Oxford/AZ vaccine, even against the B.1.351 variant. Protection against severe outcomes is still likely. This is supported by immune responses similar to the J&J vaccine. It supports continued use in South Africa and other countries now.

Preventing severe outcomes in people at high risk would also protect the health system in South Africa, which, as in many countries, is severely stressed.
Having an initial vaccination with the Oxford/AZ vaccine does not prevent using a different vaccine in the future to boost protection.
Other vaccines in development, notably the J&J and Novavax candidates, are close to regulatory submission and have shown activity against the B.1.351 variant.
Negotiations for access in South Africa are already underway with J&J which includes data on protection from a single vaccine course.
The experience from this recent study should focus vaccine programmes on preventing deaths and in supporting health systems by reducing severe COVID-19. This is more likely to be effective and practical than a focus on achieving herd immunity.
WHO also support continued use of the Oxford/AZ vaccine, and will continue to use it in global vaccination programmes, including in counties with B.1.351 and P.1 variants. There are no safety issues from continuing to use this vaccine in all settings. [4]
comment
Although these results were initially disappointing they could be seen as a real world test for the primary outcome of reducing deaths and protecting health care systems.
They also highlights the difficulty of preventing transmission as a primary goal.
By 8 February 2021, approximately 150 cases of B.1.351 have been reported in the UK, where non-travel-related infections prompted intensive door-to-door testing of more than 80,000 people based on geographic region.
This article in HTB will be updated with details of the pre-review publication, when available.