Long-acting bNAb is safe and well tolerated and achieves target concentrations in newborns (VRC07-523LS)
24 February 2021. Related: Conference reports, Paediatric care, HIV prevention and transmission, R4P 2021 Virtual.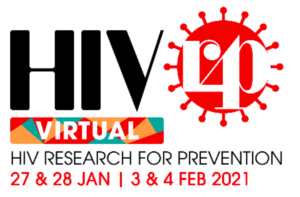 Polly Clayden, HIV i-Base
A long-acting broadly neutralising monoclonal antibody (bNAb) VRC07-523LS could achieve target levels in infants for the duration of breastfeeding with three monthly dosing, according to data from IMPAACT 1112, presented at HIVR4P 2021. [1]   
Despite the success of antiretroviral therapy, vertical transmission still contributes to the number of new HIV infections each year. One reason for this is transmission among women who acquire HIV during breastfeeding.
A potent bNAb given to HIV-exposed infants has the potential to reduce such transmission.
There could be several advantages to using bNAb in infants:
Exposure is time limited.
Dosing occurs when infants are already in medical care.
Dose volumes are small and easily given subcutaneously.
VRC07-523LS is 5-fold more potent and has a prolonged half-life and a better pharmacokinetic (PK) profile in adults compared to VRC01.
IMPAACT 1112 is an open-label study of VRC07-523LS given to HIV-exposed infants at increased risk of HIV transmission (this group has previously looked at VRC01 in infants [2]).
Non-breastfed infants receive 80 mg subcutaneous (SC) within 72 hours of birth.
Breastfed infants receive 80 mg SC within 72 hours of birth and 100 mg at 12 weeks of age.
The target week 12 plasma level was 10 mcg/mL. Infants are followed for safety, PK and HIV status through week 96.
All infants in the non-breastfed cohort (n=11) were recruited from US sites and those in the breastfed cohort (n=11) from sites in Africa (Zimbabwe or South Africa). All infants received local standard of care infant antiretroviral prophylaxis and received VRC07-523LS dosing within time specified by the protocol (mean 2.5 days for single dose).
Only eight infants in the breast fed cohort received the second dose as the remainder were no longer being breastfed.
Local reactions were rare in the US group but common in the group enrolled in Africa – most were mild and quickly resolved (most severe grade 2). No other adverse events were considered related to study treatment.
PK measurements through week 12 were available for the single dose.
The mean VRC07-523LS levels were: 68.7, 31.1, 16.3 mcg/mL at weeks 4, 8, and 12, respectively. These levels exceeded those previously reported for VRC01 20 mg/kg SC at week 2, 4, and 8. Ongoing growth contributed to the reduction in VRC07-523LS concentration but levels remained over the target of 10 mcg/mL at week 12.
References
Cunningham C et al. Safety and PK of potent anti-HIV monoclonal AB VRC07-523LS in HIV-exposed infants. HIVR4P virtual. 27–28 January and 3–4 February 2021. Oral abstract OA03.02.
https://programme.hivr4p.org/Abstract/Abstract/363(abstract)
https://virtual.hivr4p.org/media-432-oa03—the-clinical-march-of-bnabs(webcast 1:32)
Clayden P. VRC01 in HIV-exposed newborns: first results support monthly injections for those at risk through breastfeeding. HTB. 24 April 2017.
https://i-base.info/htb/31560