No benefit from BRII and GSK monoclonal antibodies against COVID-19 in ACTIV-3 study
12 March 2021. Related: COVID-19: investigational drugs, COVID-19.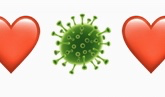 Simon Collins, HIV i-Base
On 1 March 2021, two sub-studies of the ACTIV-3 trial using monoclonal antibodies (mAbs) to treat COVID-19 were closed to further enrolment, both due to futility.
This was based on planned early interim reviews and recommendations from the independent Data and Safety Monitoring Board (DSMB).
Each review was based on approximately 340 participants and was designed to detect any signal of early benefit. [1]
The investigational mAbs were VIR-7831 (developed by GSK and Vir Biotechnology) and a dual combination of BRII-196 and BRI-198 (developed by Brii Biosciences).
The ACTIV-3 study is one of five studies looking to rapidly evaluate potential treatments for COVID-19, with each study able to look at multiple different treatments. [2]
An earlier sub-study using bamlanivimab (LY-CoV555 from Eli Lilley) also closed early after finding no benefit in hospitalised participants. However, bamlanivimab has been shown to be effective (in the BLAZE-2 study) when used as prophylaxis against COVID-19. [3, 4]
As with the BRII combination, LY-CoV555 continues to be studies in earlier infection as part of the six-arm ACTIV-2 study.
A fourth study arm using AZD7442 (a mAb developed by AstraZeneca) is still ongoing and further compounds with also be added to ACTIV-3.
References
This report was first posted on 5 March 2021.