HTB: no. 5 – plus HIV and COVID-19 (3 May 2021)
3 May 2021. Related: Editorial, Special reports.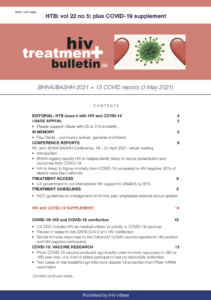 This issue of HTB starts by remembering Paul Decle, a UK community activist who was part of the core group that founded i-Base in April 2000, and who supported many other UK organisations.
And although we planned to steadily reduce our coverage of COVID-19, the first reports from the 5th BHIVA/BASHH conference, all report on outcomes in people living with HIV.
These include results from a BHIVA audit and from a PHE analysis, both reporting HIV as an independent risk for worse outcomes.
Our reports include the publication of NICE guidelines on pain management and the news that the UK government plans to reduce funding to UNAIDS by 80%.
And then we roll into 15 reports related to COVID-19, ranging from vaccines research, experimental treatment, long COVID, transmission and prevention.
Of these, perhaps the most serious, reports significantly reduced immune response to the full course of mRNA vaccines in populations with immune suppression. For example, 30% of participants older than 80 years and 50% of recipients of solid organ transplant produced no detectable immune response, three weeks after the second dose.
This raises important questions for some HIV positive people who are in either of these groups, or who are more vulnerable due to BHIVA criteria of having a very low CD4 count (<50 or perhaps <200 cells/mm3).
Until supported by evidence of protection, either on an individual or subgroup level, it might not be accurate to rely on immune protection after a coompleted vaccine schedule. 
But with so much to read, we will keep this introduction short.
Happy reading.