Variation in ACE2 levels are not related to outcomes from COVID-19
1 August 2021. Related: COVID-19: pathogenesis, COVID-19.
Simon Collins, HIV i-Base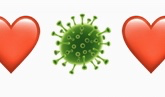 A paper published in JID looking at ACE2 receptor levels, used by SARS-CoV-2 to establish infection, was not related to outcome of infection.
The study reported no significant differences in the levels of ACE2 receptor levels related to age or sex from 58 samples from lung tissue. There was no link between variation in levels and levels of SARS-CoV-2 or in the outcomes from COVID-19.
Other factors are therefore the likely cause of the higher risks of COVID-19 in older people and in men.
This report was first published on 25 July 2021.