IAS 2021: HIV pipeline drugs: CAB/RPV LA, fostemsavir, paediatric dolutegravir, lenacapavir, islatravir, MK-8507 and albuvirtide
1 August 2021. Related: Conference reports, Antiretrovirals.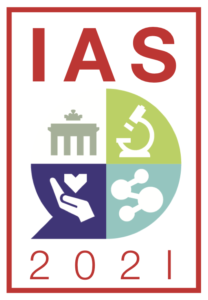 Simon Collins, HIV i-Base
There were exciting results at the IAS 2021 conference on many of the most important compounds currently in phase 2/3 studies as next generation ART.
This included studies for nearly all pipeline or recently approved compounds including long-acting cabotegravir/rilpivirine, fostemsavir, lenacapavir (as treatment and PrEP), islatravir (as treatment and PrEP) and albuvirtide.
CAB/RPV LA. Several implementation studies and a French study looking at transmitted resistance to both drugs – reporting that 7% of >4000 treatment naive samples showed resistance to rilpivirine.
Fostemsavir. Two posters on side effects out to 96 weeks and drugs in the background regimen of the BRIGHTE study.
Paediatric dolutegravir. Safety and efficacy from the large international ODYSSEY study in treatment-naive and -experienced children.
Lenacapavir. Phase 2/3 results in multidrug experienced (CAPELLA) and phase 2 treatment-naïve (CALIBRATE). Also macaque data on PrEP.
Islatravir/doravirine. 96-week phase 2 safety data on dual ART, including bone and kidney results, and use in renal disease. Plus PK data easily supporting once-monthly oral pill for PrEP and plans to include islatravir in a vaginal ring (combined with a contraceptive).
GS-8507. Two posters showing no drug interactions with either islatravir or oral contraceptives ,
Albuvirtide. Minimal phase 3 results: dual ART with lopinavir
Cabotegravir/rilpivirine long acting injectable combination (CAB/RPV LA)
Although cabotegravir/rilpivirine is already approved in the US and EU, it hasn't been widely used yet in the UK where it is still being evaluated by the NHS.
Week 124 results from the FLAIR study were presented at IAS 2021. This included limited data from not using an oral lead-in dosing for the first month. [1]
Many of the studies at IAS 2021 looked at issue relating to implementation and how health systems adapt to an injectable treatment. [2, 3, 4]
A French study looking at likelihood of baseline resistance to either drug recommended the importance of baseline resistance testing in to detect polymorphisms, transmitted drug resistance and to define HIV-1 subtype. [5]
This was a large drug resistance database (>4200 samples from 2010 to 2020 with both integrase and NNRTI sequences) reported that approximately 7% of treatment-naive people might have transmitted mutations to rilpivirine, especially in people with HIV sub-type A.
There were also several presentations on cabotegravir LA as PrEP.
Fostemsavir
Approval of the gp-120 attachment inhibitor fostemsavir for HIV MDR in the US and EU – in July 2020 and January 2021 respectively. [6, 7]
This was based on 96-week results from the international BRIGHTE study in people with multidrug resistance, reported at IAS in 2019. [8] This includes results in 272 participants in the randomised study and 99 participants using open-label fostemsavir. Further 96-week analyses were presented at IAS 2021 including new analysis of side effects and on the diversity of treatments used in background ART, although this primarily included twice-daily dolutegravir. [9, 10]
As a drug in a new class, supported by results from BRIGHTE, fostemsavir can be a life-saving option for the small percentage of people with MDR HIV.
Paediatric formulations of dolutegravir
New paediatric formulations of dolutegravir were also approved this year which will dramatically improve treatment options for children globally.
Several presentations at IAS 2021 included additional results  from large international ODYSSEY study – from an additional cohort of 85 infants and children <14 kg. This included good  36-week efficacy results for younger children but also reported four cases of drug resistance in the main ODYSSEY study in the older age group – showing the importance of access to pipeline ART. [11, 12]
More comprehensive results were also presented at the paediatric workshop held just before IAS. [13]
Safety data from ODYSSEY in the main study was also generally good but included vulnerability of some participants to CNS side effects and mood changes. [14, 15, 16]
IAS 2021: lenacapavir
Lenacapavir is a news capsid inhibitor that is given by injection every six months and that has already been submitted to the FDA as a treatment of extensive drug resistance. [17]
IAS2021 included clinical results from the phase 2/3 CAPELLA study at week 26 from the 36 participants in the randomised section of this study. This is in highly treatment experienced participants who had HIV multidrug resistance (MDR) to at least three drug classes.  [18]
The conference also included results from the phase 2 CALIBRATE study in treatment naive participants. [19]
Both studies are covered in details in a separate HTB report. [20]
This also includes a third study using lenacapavir as PrEP showing 96% (p=0.0002) protection against vaginal exposure. [21]
Phase 3 PrEP studies are already ongoing.
Islatravir
Islatravir is an NRTTI (a nucleoside reverse transcriptase translocation inhibitor, a type of NTRI) that is being developed by Merck/MSD for both treatment and prevention. It's incredibly high potency allows long-acting oral formulations that allow once-monthly dosing.
The treatment programme is focused on dual therapy with NNRTIs: either daily dosing with doravirine using or weekly dosing with MK-8507.
Islatravir plus doravirine
IAS 2021 included 96-week results from a phase 2 dose-ranging RCT in treatment naïve participants that started with triple therapy but switched the investigational arm to doravirine plus islatravir dual therapy in participants with undetectable viral load after 24 week. After 60 – 84 weeks the three islatravir arms all changed to the selected 0.75 mg dose. Throughout these phase the control arm is doravirine/TDF/3TC. [22]
Results from weeks 24 and 48 were previously reported at IAS conferences in 2019 and 2020 and baseline demographic have been reported previously. [23]
Viral efficacy results at 96-weeks were presented at Glasgow 2020. [24]
The IAS 2021 results included no new serious drug related events between from 48 to 96 weeks. There were also no new drug-related discontinuations after week 48. There were also no serious side effects that were more common in the combined islatravir vs control groups.
The most common side effects with significant differences between arms through to week 96 was more headaches in the islatravir arms (11% vs 6%) and more diarrhea in the control arm (7% vs 19%). The majority of both these side effects was mild and not related to study drugs.
Week 96 lab abnormalities were generally similar to week 48. Increases in creatine kinase were nearly all related to exercise.
Baseline characteristics for the 121 treatment-naïve participants included mean age 31 years, 93% male. Mean CD4 count was 492 cells/mm3 (SD: 188) and 22% had viral load >100,000 copies/mL. Race included 76% white and 20% black with approximately half the participants being Hispanic or Latin American. Approximately 40% were treated in sites in North America, 30% in South American and 25% in Europe.
Islatravir plus MK-8507
Islatravir is also being studies in combination with the NNRTI MK-8507 as a weekly oral combination. Viral load reductions of a mean –1.5 log after seven days monotherapy and support once-weekly dosing above 80 mg. [25]
Two PK studies on MK-8507 at IAS 2021 reported no drug interactions with either islatravir or oral contraceptives. [26, 27]
Islatravir as PrEP
At IAS 2021, PK data showed that drug levels using once-monthly oral PrEP remained at protective levels for at least two months after the last dose. Another study included plans to include islatravir in a vaginal ring, combined with a contraceptive. [28, 29]
Two large phase 3 studies are already underway using monthly oral islatravir. [30, 31]
Albuvirtide – fusion inhibitor
Albuviride is an HIV fusion inhibitor that works at an early stage of the HIV lifecycle by blocking attachment to CD4 cells. It was approved in China in June 2018. [32]
It has a similar structure and mechanism to an earlier HIV fusion inhibitor called enfuvirtide (T-20, Fuzeon) that was developed for people who had run out of treatment options.
However, it is still a pipeline drug because phase 3 results have not previously be published. Two US phase 2 studies are listed for use in multidrug resistance together with the bNAb 3BNC117. [33, 34]
A presentation at IAS 2021 presented very limited results from the phase 3 TALENT study. The TALENT study compared a two-drug arm of albuvirtide with lopinavir/r produce similar viral load results to lopinavir/r with two NTRIs. The poster didn't show published results though, just a short oral summary.
The study design was selected when lopinavir/r was still widely used as second-line therapy in China.
References
This article was first posted on 28 July 2021.