Immune responses against Delta variant in people vaccinated in the UK
17 September 2021. Related: COVID-19: vaccine research, COVID-19.
Simon Collins, HIV i-Base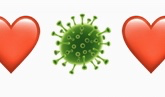 A large community based survey of randomly selected households in the UK reported reduced generally high efficacy of the three main vaccines against the Delta variant.
However, reduced and waning protection against Delta variant over time supports third vaccine for people with reduced immune responses after two doses.