Early efficacy results with oral molnupiravir focuses attention on price and access
31 October 2021. Related: COVID-19: treatment access, COVID-19: investigational drugs, COVID-19.
Simon Collins, HIV i-Base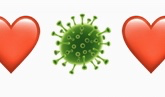 On 1 October 2021, early results reported that a five-day course of treatment with the oral antiviral drug molnupiravir significantly halved the risk of hospitalisation or dying from COVID-19 from 14% to 7% (p=0.0012). [1]
These were planned interim results in approximately 750 non-hospitalised participants with mild to moderate COVID-19 enrolled in an ongoing phase 3 study.
The results were sufficient for the study data safety monitoring board (DSMB) to recommend stopping further recruitment – with approximately 1500 participants now in the study.
Molnupiravir is being developed by Merck/MSD who announced plans to file an emergency application with the US FDA.
As potentially the first oral medication in earlier infection, there was an almost immediate focus on access, after a 5-day course was priced at $700 for a pre-approval order for the US market, despite costing less than $20 to manufacture. [2]
Several plans were also quickly announced, including by the Gates Foundation and the Medicines Patent Pool for access in low- and middle-income countries. [3, 4, 5]
The EMA has already started a rolling review for a regulatory decision in Europe. [6]
STOP PRESS
Shortly after this issue of HTB was distributed, the UK became the first country to conditionally approve molnupiravir. [7, 8]
A few weeks later, a full analysis including all participants reported lower effectiveness with 3% absolute and 30% relative reductions.
The risk of hospitalisation or death in the full analysis is 9.7% in the placebo group (68/699) compred 6.8% (48/709) in the molnupiravir group, This is an absolute risk reduction of 3.0% (95%CI: 0.1 to 5.9; nominal p=0.0218) and a relative risk reduction of 30% (RR 0.70; 95% CI: 0.49 to 0.99). [9]
This report was updated on 4 and 26 November to include updated information in the end comments.