UK offers limited vaccine to gay and bisexual men at risk of monkeypox: full dose offered in NYC
1 July 2022. Related: mpox (monkeypox), Coinfections and complications.
Simon Collins, HIV i-Base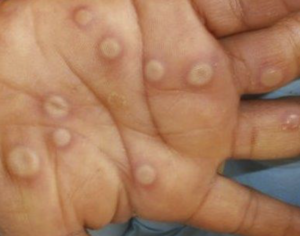 On 21 June 2022, the UKHSA announced plans to offer a vaccine against monkeypox (MPX) to (some) gay and bisexual men. [1]
Although this strategy has been wanted by many people at highest risk, vaccines until now have been mainly given to heatlh workers or houseold contacts of people with confirmed MPX.
The Imvanex vaccine is non-replicating and can be given in people with reduced immune systems, including in people living with HIV. Although it is only approved in Europe to protect against smallpox, it is also approved in the US as a vaccine against monkeypox. [2, 3]
The announcement include few details on access to the vaccine but more details are expected shortly.
Criteria for access are suggested as similar to PrEP (but irrespective of HIV status). This will likely include people who "have multiple partners, group sex or who attend sex-on-premises venues".
Current stocks cover about 20,000 people with additional order expected next month and in September. In people not already vaccinated against smallpox, the vaccine is usually given in two injections, 28 days apart.
However, limited vaccine stocks mean that men in the UK will initially only be given one vaccine shot. This is expected to provide up to 45% protection. The time needed for protection to develop is not currently clear.
New York City recently announced a vaccine programme that will be given as two injections. This is being made available to "all gay, bisexual, and other men who have sex with men (cisgender or transgender) ages 18 and older who have had multiple or anonymous sex partners in the last 14 days". [4]
Uptake is extremely high, with stocks being used almost as soon as they have been delivered. [5]
On 28 June 2022 the US Department of Health (HSS) announced a national vaccine programme using 290,000 doses of the Jynneos vaccine (56,000 available immediately and the rest within a few weeks). This decisions was made after only 300 cases had been diagnosed in the US. [6]
comment
Although this is initially good news, but current stocks will need to be made available quickly if they are to make much impact on the current outbreak.
Demand for the vaccine is likely to be high. Even though most MPX cases are mild, few people want to limit social interactions or spend weeks in self isolation, just as summer approaches.
However, the proposal to use single doses with much lower rates of protection might have much lower impact on future cases. Many people might not want to rely on 45% protection and instead continue just avoiding higher risk situations. This would effectively waste the currently limited vaccine supplies.
The increase in MPX cases over the last four weeks has been exponential in the UK, with more than 900 people diagnosed by the end of June. As many of the new cases have also not been connected to known transmission networks, MPX has already spread much more widely than initially thought.
Vaccine demand will also quickly become limited on an international level.
In Canada, Montreal planned to widely vaccinate gay and bisexual men at highest risk, at a time when only 136 cases had been reported. [7]
References
This report was first posted on 21 June 2020. It has since been updated to include more recent statistics on the number of UK cases.