Monkeypox DNA detected at high levels in saliva and is common in semen and other samples
3 August 2022. Related: Monkeypox, Coinfections and complications.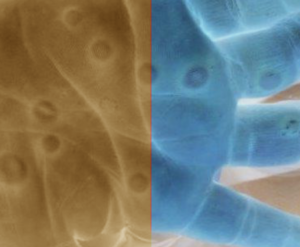 Reports of the current monkeypox (MPX) outbreaks have emphasised skin-to-skin contact but underplayed the likely role of kissing and oral sex as a common factor in the crisis.
Although MPX is not classified as a sexually transmitted infection (STI) it is frequently linked to sexual contact.
A longitudinal study in 12 gay men in a Spanish cohort published in Eurosurveillance reports that MPX was commonly found in skin lesions, nasopharyngeal and rectal tissue, and in semen, urine and faecal samples. [1]
Median age was 38 years (range: 32 to 52). Three had an STI on diagnosis and most (9/12) had a previous history of STIs. All 4/12 that were HIV positive had undetectable viral load on ART with CD4 counts between 400 and 860 cells/mm3. PrEP was used by 7/8 HIV negative men.
All were sexually active with 8/12 having up to ten partners in the previous month. 'Sex-on-premises' venues or 'chemsex' parties were attended by 5/12 and 4/12 were linked to a confirmed MPX case.
MPX infection was not prevented in 4/12 who reported previous smallpox infection (not recorded in five others). Systemic symptoms (fever etc) were reported in 11/12.
MPX in other samples
At diagnosis, MPX DNA was detected in swabs of skin lesions in all 12 cases, usually with high viral load (Cq value range: 16–21) and some cases had additional oral, pharyngeal and rectal lesions.
MPX DNA was commonly detected in follow-up samples taken between 4 and 16 days later.
High viral loads were observed in some saliva, rectal swabs, semen, urine and faecal samples with intermittent shedding also observed.
MPX was detected in saliva from all 12 patients, and in some cases, at low Cq values indicative of very high viral loads.
Positive samples were reported for rectal (11/12) and nasopharyngeal swabs (10/12 cases), semen (7/9), urine (9/12) and faeces (8/12).
These results support a likely role of saliva in MPX transmission that would include risk from kissing and from oral sex.
Positive samples in semen suggest that MPX might be sexually transmitted without the need for other skin contact or kissing.
Continued follow-up in the cohort will be important to establish likely duration of MPX in samples, potentially after skin lesions have resolved and people are assumed cured and no longer required to self-isolate. It will also be important to look at recoverable levels of MPX.
It is useful that the UK recently extended the recommendation to use condoms for 12 weeks after MPX has resolved, in line with WHO guidelines. Previously, the recommendation was to use condoms for 8 weeks after skin lesions have completely resolved. [2]
More than 1800 people have now been diagnosed with MPX in the UK. More than 12,000 cases have been reported globally, with over 2,800 in Spain and 1,800 in the US.
This report was first published on 18 July 2022.