Help needed: UK surveys on access to New-Fill for facial lipoatrophy
1 August 2023. Related: Side effects, Lipodystrophy and metabolic complications.
Simon Collins, HIV i-Base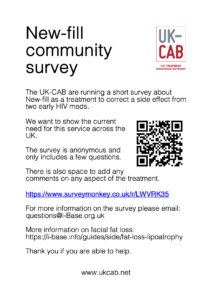 New-Fill has been available and commissioned from the NHS for over 15 years as a way to correct for facial fat loss caused by early HIV drugs, principally stavudine (d4T) and zidovudine (AZT).
It is an injectable non-permanent filler that works by generating new collagen growth rather than being used as a traditional filler. The higher volumes used to correct HIV-related lipoatrophy require specialist services.
Some clinics already have either have an in-house service or a commissioned referral route to a local clinic. However, access to New-Fill still seems to vary by hospital and region. These services were put on-hold during COVID-19 which also reduced the number of people who can be treated.
A pilot project is looking to map current access to services to help understand the demand for New-Fill in order to support more stable and equitable access.
Hopefully showing a continued unmet need, we can keep proper funding and commissioning support to make sure services are stable for the future.
There are two short surveys – one for community and one for health professionals.