i-Base pregnancy guide: Portuguese edition
2 April 2012. Related: News.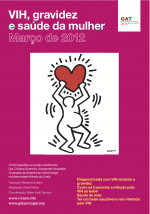 The i-Base guide to HIV, Pregnancy and Women's Health has been translated into Portuguese by the Lisbon based activist group GAT.
This is now available as a PDF format.
Download PDF file. (700 Kb)
Other i-Base guides in Portuguese are available at the link below.