Marta Marcé limited edition print supports i-Base
22 August 2009. Related: News.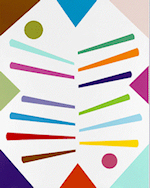 Artist Marta Marcé has produced a limited edition print inspired by her recent commission for the Infection and Immunity Clinic at The Royal London Hospital in Whitechapel.
Proceeds from the print, priced at £125, are kindly being donated by the Hospital to i-Base as part of the Vital Arts programme at Barts and the London NHS Trust.
We would like to thank St Barts and the Royal London Hospital for their generous support.