Question
How good is the monkeypox vaccine?
5 August 2022. Related: All topics, Coinfections, Opportunistic infections, Sexual health.
Hi there, I am an HIV positive man living in London and my clinic offered me the monkeypox vaccine. How good is it and will it protect me?
I am otherwise doing well on ART, with a good CD4 count. I like to enjoy life, including the chance to meet people in different settings. Right now though I am still being cautious.
Answer
IMPORTANT NOTE: This page will be updated as more data becomes available. And also if experts agree on information that should be given with the vaccine,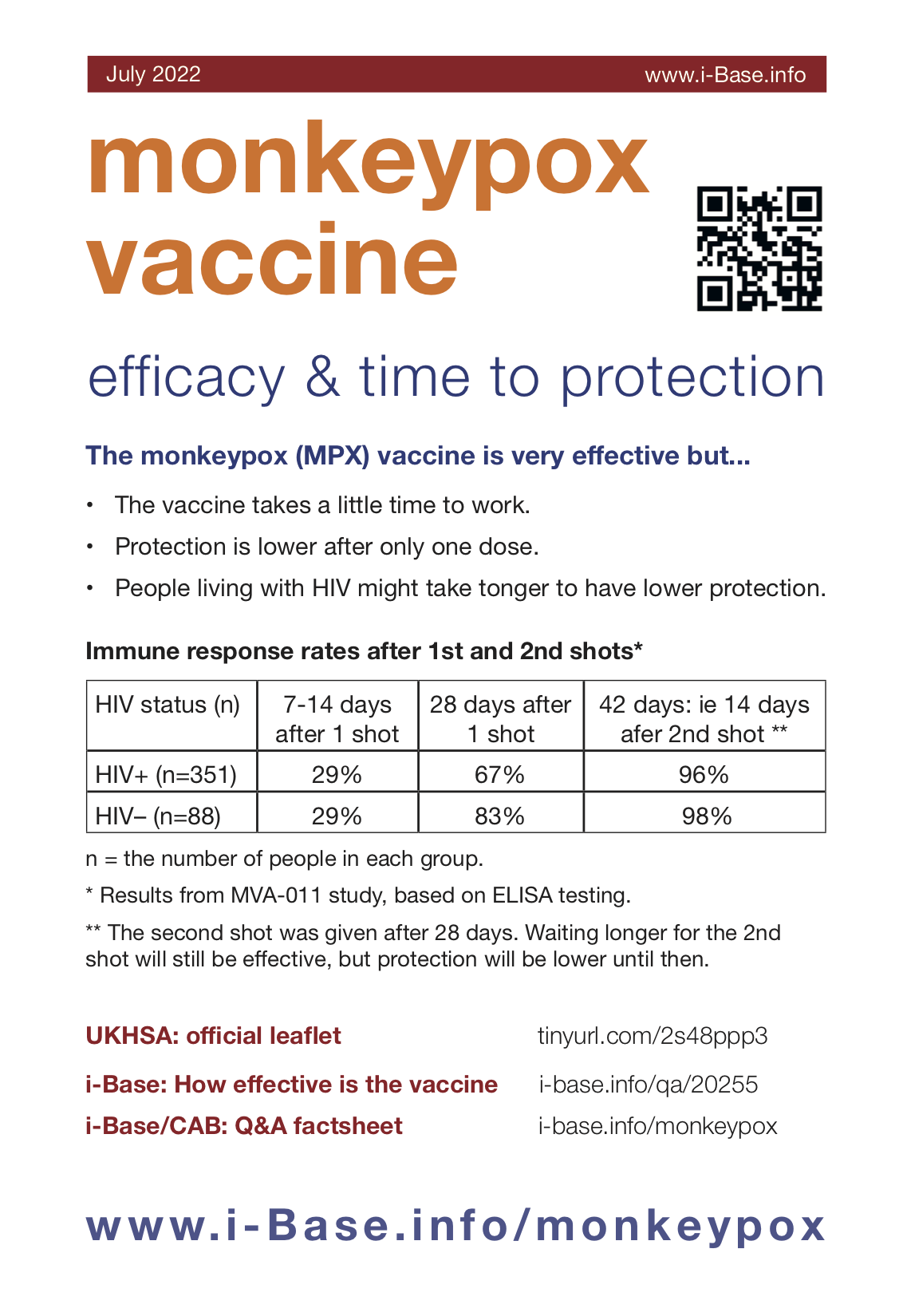 Thanks for your questions which lots of other people are asking about.
The monkeypox (MPX) vaccine is called Imvanex (in the UK) and called Imvamune, Jynneos and MVA in other countries.
This is especially important as some London clinics run weekend clinics to provide the vaccine.
The quick answer is that the MPX vaccine is highly effective and is very safe. But this is based on results two weeks after after receiving the second dose.
If your clinic contacted you, they recognise that you could especially benefit from the vaccine.
The detailed Q&A below is just as important though. It explains how long the vaccine might take to work, and the likely protection after just one shot.
It also explains why a second shot might be more important if you are HIV positive. However, different studies do not always agree. This uses a cautious approach based on studies in people living with HIV.
The main point is to show that protection takes time to develop and that HIV status might affect this.
Table 1: Immune response rates after 1st and 2nd shots*
| | | | |
| --- | --- | --- | --- |
| HIV status (n) | 7-14 days after 1 shot | 28 days after 1 shot | 42 days: ie 14 days after 2nd shot ** |
| HIV+ (n=351) | 29–80%% | 67–80% | 96% |
| HIV– (n=88) | 29–80% | 83% | 98% |
* Results from MVA-011 study, based on ELISA testing. The range of responses is related to how the results have been reported by different sources.
** The second shot was given after 28 days. Waiting longer for the 2nd shot will still be effective, but protection will be lower until then.
n = the number of people in each group.
How effective is the MPX vaccine?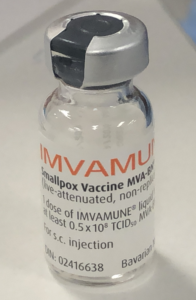 The MPX vaccine is thought to be highly effective after two shots, 28 days apart.
For example, based on study above, the vaccine is likely to be more than 95% effective two weeks after the second shot. (See Table 1).
But this is based on two shots and then waiting two weeks for the full immune response to develop.
However, the vaccine might be more effective, earlier. A similar size phase 3 study reported approximately 6% protection after one week and 91% after two weeks. This study did not include people living with HIV. [5]
The published HIV studies are included in the references. [6, 7]
Until experts agree, i-Base would prefer to be cautious rather than hear about people developing MPX before protection had developed.
How effective is the MPX vaccine after one shot?
Because there is a limited supply of vaccines the current UK programme is based on only giving one shot. The government say this is a fairer way to meet the high demand.
However, this is an important question because vaccine responses are likely to be lower after only one shot. This also depends on waiting for the vaccine to work.
For example, after 2 weeks, protection might only be 29%.
After 4 weeks, protection after a single shot increases to between 67% to 88%.
These results are based on immune tests called ELISA, but different rates were reported based on other tests. (See Table 1).
How quickly do immune responses develop?
It is likely to take at least 2 weeks for the vaccine to work in most people.
But waiting for 4 weeks increases protection to between 67% to 88%. (See Table 1).
What about if I am HIV positive?
It might take a little longer for the vaccine to work in people living with HIV. We might also need a second dose to get the same protection as someone who is HIV negative.
Data on vaccine protection comes from six main studies.
One of these studies included 351 people living with HIV and 88 people who were HIV negative. CD4 counts were all >200 cells/mm3 in the HIV positive group. (See Table 1).
After 7 to 14 days, immune responses were only reported in about one third (29%) for both groups. This is why waiting for protection after the vaccine is important.
After 28 days, immune responses increased to 67% in the HIV positive group and 83% in the HIV negative group.
After 42 days, two weeks after the second shot, protection increases to 96% in the HIV positive and 98% in the HIV negative groups.
This supports the importance of having a second shot, especially if you are HIV positive.
Is is worth having a single shot?
Yes, the vaccine is the best way to protect against MPX.
If you are offered the vaccine or register online to have a first shot, this is strongly recommended.
A single shot will give some protection.
More importantly, you will get full protection more quickly, once the second shot becomes available.
Is the above information being given to people having the vaccine?
For some reason, the information currently being given to people in the UK does not include the details above. [1]
Even though this evidence is limited, this could still be explained and it would help.
It is however in the full prescribing information. [2]
So the information in the Q&A is based on antibody responses to the Imvanex vaccine by ELISA. Although vaccines can work in other ways, this is the main way the vaccines against COVID were reported.
The US CDC also cautions for people to wait six week – ie until two weeks after the second dose. It provides no infoemation about only receiving one dose. [3]
How easy is MPX to transmit or receive?
MPX can be very easy to catch. This includes in situations where it is easy to have sex with anonymous or multiple partners. For example, in private parties, saunas, darkrooms and cruising areas.
Even if you don't have sex, intimate close contact can easily transmit MPX. This includes from someone touching you (if MPX is on their hands), from kissing and from oral sex.
Rates of MPX are especially high in London, but have now been reported across the UK.
More information
Monkeypox Q&A
https://i-base.info/monkeypox/
More details on transmission, symptoms, treatment and other information.

References
This Q&A was first posted on 23 July 2022. It was last updated on 18 August 2022 to include the updated BHIVA statement. The table now includes a wide range of 2- and 4-week responses.