US guidelines shift to integrase-based combinations for first-line treatment (2015): Atripla relegated due to side effects
1 June 2015. Related: Guidelines.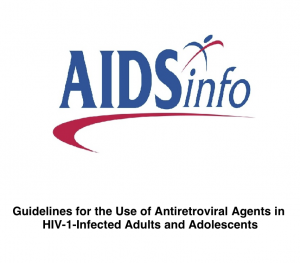 Simon Collins, HIV i-Base
The latest update of the leading US treatment guidelines, produced by a panel from the Department of Health and Human Sciences (DHHS) was published online on 9 April 2015. [1]
These comprehensive, evidence-based guidelines now run to almost 300 pages including over 30 tables. This is the first update since May 2014.
Starting treatment: choice of ART
One of the main changes is that choice of first-line combinations (see Tables 6 and 7) are predominantly integrase inhibitor based combinations or the protease inhibitor darunavir/ritonavir. All are graded A1 and all except one include tenofovir/FTC as background NRTIs.
Dolutegravir/abacavir/3TC single tablet (Triumeq) – if HLA-B*5701 negative.
Dolutegravir plus tenofovir/FTC.
Elvitegravir/cobicistat/tenofovir/FTC single tablet (Stribild) – if CrCl is >70 mL/min.
Raltegravir plus tenofovir/FTC.
Darunavir/ritonavir plus tenofovir/FTC.
Four alternative combinations are included, all with a lower grade B1 recommendation.
Efavirenz/tenofovir/FTC single tablet (Atripla) – due to CNS-related side effects.
Rilpivirine/tenofovir/FTC single tablet (Eviplera/Complera) – but only if viral load is <100,000 copies/mL and CD4 counts >200 cells/mm3.
Atazanavir/ritonavir plus tenofovir/FTC.
Atazanavir/cobicistat plus tenofovir/FTC – but only if estimated CrCl >70 mL/min.
Two alternative combinations are included with an even lower grade (BII or BIII).
Darunavir/ritonavir or darunavir/cobicistat plus abacavir/3TC (only if HLA-B*5701 negative)
Darunavir/cobicistat plus tenofovir/FTC – but only if estimated CrCl >70 mL/min.
Seven other combinations are included as "Other options" with a CI or CII rating, mostly with appropriate clinical restrictions.
Virologic failure
The following key updates have been made to the management of virologic failure. This includes new text for options depending on current and previous drug class and history. (Section H 5-7)
Discordant CD4 responses on treatment
A new expanded section has been included for people on treatment who have poor CD4 responses and/or persistent inflammation.
This section notes that there are currently no proven strategies for people in this category and that monitoring of immune activation or inflammation markers is not recommended. This is because no interventions to reduce these markers have shown clinical benefits. (see section H12-14).
Acute/early HIV Infection
This section has been updated to include the 2014 recommendation in the US for diagnosis of HIV infection, including in individuals with acute/early HIV infection.
Viral failure with new onset neurological symptoms
A new short section has been added to highlight a rare form of virologic failure related to viraemia in CSF despite viral suppression in peripheral blood. (Section H-7)
Additional updates have been included for hepatitis C coinfection, drug interaction mechanisms and tables, management of HIV-2, stopping ART, therapeutic drug monitoring, drug characteristics and drug pricing.
Comment
The guidelines produced for use in the US heath care system are an essential reference document for an evaluation of evidence in that setting.
Importantly, the emphasis on individualised treatment notes that the most appropriate combinations for some people might be different to those prioritised in the guidelines.
The rational for dropping Atripla is due to "concerns about the tolerability of efavirenz (EFV) in clinical trials and practice, especially the high rate of central nervous system (CNS) related toxicities" and also references the higher rate of suicide or suicidal ideation in an analysis of four randomised studies.
EFV-associated side effects have been a long-standing community concern since approval in 1998, when it quickly became clear that tolerability was significantly different in practice than that reported in registrational studies.
UK (BHIVA) guidelines are currently in the process of being updated and a draft for comments is expected within the next two months.
Reference:
US DHHS Guidelines for the Use of Antiretroviral Agents in HIV-1-Infected Adults and Adolescents, April 2015.
http://aidsinfo.nih.gov/guidelines
Direct PDF link:
http://aidsinfo.nih.gov/contentfiles/lvguidelines/adultandadolescentgl.pdf (PDF)