New European HIV guidelines (October 2015): universal ART, first-line integrase and PrEP
1 December 2015. Related: Conference reports, Guidelines, EACS 15 Barcelona 2015.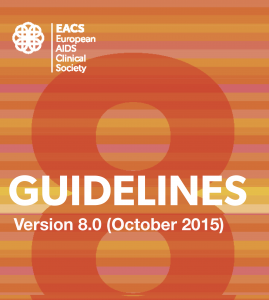 Simon Collins, HIV i-Base
The 8th edition of the European HIV Treatment Guidelines was launched at EACS 2015.
The guidelines are organised into five key sections, and regularly updated by specialist panels for each one.
These sections are:
Assessment at initial & subsequent visits
ART
Prevention and management of comorbidities
HBV and HCV coinfection
Opportunistic infections
The recommendations are mostly structured by easy-to-view reference tables that extensively cover the increasing diversity of medical issues that are important for management of HIV infection. This makes the guidelines simple to use and the electronic version includes a large range of additional material that is not included in the printed booklet.
Key changes in the 2015 guidelines include:
When to start: ART is now recommended for all HIV positive people, irrespective of CD4 count
What to start with: There are now four rather than 16 combinations recommended for first-line ART. Combinations based on integrase inhibitors are now largely preferred, with darunavir as a boosted PI option and rilpivirine as an NNRTI option (if viral load is <100,000 copes/mL). Efavirenz is no longer recommended as preferred firs-line ART.
In a new section, preexposure prophylaxis (PrEP) is now strongly recommended for HIV negative people who are at high risk of becoming HIV positive. Based on the results on the PROUD and IPERGAY studies both daily- and event-based PrEP are recommended.
Post-exposure prophylaxis (PEP) is no longer recommended if the HIV positive partner is on ART with an undetectable viral load – whatever the sexual risk. New recommendations for choice of drugs for PEP are tenofovir/FTC plus either raltegravir or darunavir/ritonavir.
Older age is a key focus in the comorbidites section that emphasises the increasing importance of multidisciplinary care. This section includes renal, liver and cardiovascular monitoring and risk, and related lifestyle interventions.
Drug interaction tables have been extensively revised, including between ART and corticosteroids, contraceptive drugs and hepatitis C medications.
ART is now routinely recommended for anyone with HBV coinfection.
Earlier HCV treatment and new oral hepatitis C drugs are emphasised more strongly.
The OI section has been restructured with new tables added for PML, histoplasmosis, cryptosporidiosis and cystoisosporiasis, and there is a new section on preemptive therapy for cryptococcosis.
The European guidelines are produced by the European AIDS Clinical Society who also organise the main conference.
Simon Collins is a member of the writing committee for the comorbidies panel for the EACS guidelines.
Comment
The major change to recommend earlier ART is now in line with UK (BHIVA), US (DHHS), and WHO guidelines. Latest UK and US guidelines also have preferential use of integrase inhibitors instead of efavirenz and WHO and the US guidelines recommend wider use of PrEP.
These European guidelines are particularly useful for using a simple table format, with annotated notes.
A small proof error on management of cryptococcal meningitis in the print edition has been corrected for the online and PDF editions: the guidelines now recommend secondary prophylaxis for at least 12 months until the CD4 count is >100 cells/mm3 for at least three months, rather than the previously more cautious need to reach >200 cells/mm3 for at least six months.
Reference:
European AIDS Clinical Society. Guidelines. Version 8.0, October 2015. English edition.
http://www.eacsociety.org/guidelines/eacs-guidelines/eacs-guidelines.html
Direct download (English version)
http://www.eacsociety.org/files/guidelines_8_0-english_web.pdf (PDF)