Superior efficacy with dolutegravir-based ART compared with other regimens at 6 months: real-world data from Brazil 
3 August 2018. Related: Conference reports, Antiretrovirals, Treatment access.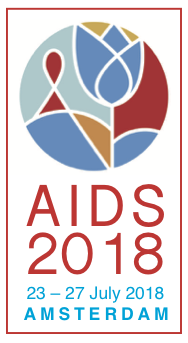 Polly Clayden, HIV i-Base
A dolutegravir (DTG)-based regimen showed greater efficacy after controlling for possible confounders compared with all other ART regimens. These data from the Brazilian Ministry of Health were shown at AIDS 2018. 
There were 42–162% higher odds of not achieving virological suppression at 6 months with non DTG-based ART.
The Ministry of Health of Brazil introduced tenofovir/lamivudine/DTG (TDF/3TC/DTG; TLD) as the preferred first-line regimen in early 2017.
Mariana Veloso Meireles presented programmatic data from the Brazilian national database – June 2014 to June 2017 – conducted to describe the effectiveness of different regimens in initial response to ART.
Of 103,240 participants included in the analysis: 67.6% were men; median age, CD4, viral load and adherence at baseline were 34 years old, 394 cells/mm3, 38,057 copies/mL and 96.2%, respectively.
Overall, 76.9% of participants achieved viral load <50 copies/mL.
Almost three quarters of participants received an efavirenz (EFV)-based regimen; 7.2% received TLD.
Viral suppression ranged from 63.7% with lopinavir/ritonavir-based ART to 85.2% with TLD.
In multivariate analysis, with TLD as reference, aOR of failing to achieve virological suppression was: 1.42 (95% CI: 1.32 to 1.52) for TDF/3TC/EFV.
comment
These results support the decision made by Brazil, many other countries and the WHO to recommend TLD for preferred first-line ART. 
Reference
Meireles MV et al. Comparative effectiveness of first-line antiretroviral therapy regimens: Results from a large real-world cohort in Brazil after the implementation of dolutegravir. IAS 2018. 23–27 July 2018, Amsterdam.  Oral Abstract TUAB0101.
http://programme.aids2018.org/Abstract/Abstract/3472